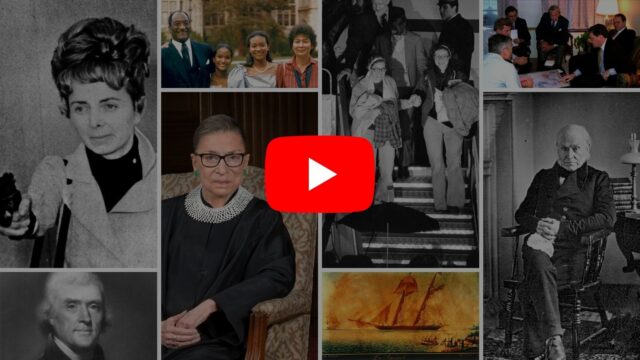 A Year Online: Our 10 Favorite Virtual Events of the Past Year
We asked our team to select their ten favorite online programs that we've hosted over the past year during the pandemic.
From the history of America's first diplomat to exploring some of the biggest issues that modern diplomats are tackling around the world, you'll learn more about the crucial role that diplomacy has played in American history.
1) Diplomacy After Hours: The 25th Anniversary of the Dayton Accords
2020 marked the 25th anniversary of the Dayton Accords, a historic diplomatic achievement that ended the war in Bosnia. In December, our then NMAD Director Mary Kane, and our Public Historian Dr. Alison Mann hosted a conversation with Ambassador Christopher Hill and Dayton City Commissioner Matt Joseph, where they discussed their first-hand experiences of the negotiations.
2) Diplomacy Classroom: The Iran Hostages' Homecoming
The Iran Hostage Crisis began on November 4, 1979, when 52 Americans were detained by Iranian militants who stormed the U.S. Embassy in Tehran. They were released on January 20, 1981, for a total of 444 days in captivity. In commemoration of the 40th anniversary of their release, our Collections Manager, Eric Duyck shared the story and significance behind some of the artifacts in our collection from the Iran Hostage Crisis.
3) Diplomacy After Hours: The Judge as Diplomat: Honoring U.S. Supreme Court Justice Ruth Bader Ginsburg
On March 24, NMAD hosted a special program on the legacy of U.S. Supreme Court Justice Ruth Bader Ginsburg and her many contributions to diplomacy. Our program was moderated by Justice Ginsburg's official biographer Mary Hartnett, and included her children, Jane and James Ginsburg, as well as her former law clerks, Amanda Tyler and Lisa Frelinghuysen.
4) Honoring "Pistol Packin' Patti" as a Hero of U.S. Diplomacy
The Department of State honored Patricia "Patti" Morton as a 'Hero of U.S. Diplomacy'. Hosted by the Foreign Service Institute (FSI) and NMAD, this virtual event featured opening remarks by FSI Director Ambassador Daniel B. Smith and Diplomatic Security Training Deputy Assistant Secretary Wendy Bashnan. NMAD's Associate Curator Kathryn Speckart shared stories, artifacts, and video highlights from Patti's career, and Diplomatic Security Deputy Assistant Director Julie Cabus spoke about working as a supervisory special agent today.
5) Legacy of Ambassador Edward J. Perkins: Reflections on Families in the Diplomatic Service
In celebration of Black History Month, NMAD's Acting Director, Dr. Jane Carpenter-Rock, discussed the life and legacy of Ambassador Edward J. Perkins with his daughters, Katherine and Sarah Perkins. Ambassador Perkins was a distinguished career diplomat who served as the U.S. Ambassador to Liberia, South Africa, the United Nations, and Australia. In addition to his numerous accomplishments and trailblazing career, Ambassador Perkins was a devoted husband and father.
6) Diplomacy After Hours: Serving with Pride: Addressing LGBT+ Issues in the Foreign Policy Workplace
In June 2020, NMAD and glifaa hosted an event on how to make the workplace a more welcoming environment for the LGBT+ community. We were joined by LGBT+ individuals from the foreign affairs community for a rich conversation about workplace inclusion.
7) Diplomacy Classroom: La Amistad and Upholding Democracy
On February 9, 2021, our Diplomacy Classroom discussed the role of diplomacy in freeing the Africans held on the Spanish ship La Amistad. Public Historian Dr. Alison Mann discussed how this landmark case challenged America's democratic ideals.
8) Diplomacy After Hours: Secretaries, Senators, and the Presidency
On January 27, 2021, the National Museum of American Diplomacy hosted a conversation on the Secretaries of State and Senators who have run for President. The program featured our Public Historian Dr. Alison Mann and Historian Emeritus of the United States Senate Dr. Donald Ritchie, who explored how the road to the White House has changed and evolved since the days of the founding fathers.
9) Diplomacy Classroom: Combating Global Wildlife Trafficking
For this special Diplomacy Classroom, we teamed up with the Bureaus of Oceans and International Environmental and Scientific Affairs (OES) and International Narcotics and Law Enforcement Affairs (INL) to explore how the State Department works with our embassies, other U.S. government agencies and experts, foreign governments, non-governmental organizations, and the private sector, to bolster conservation efforts and stop criminal networks profiting from illegal wildlife trafficking.
10) Diplomacy Classroom: The Declaration Heard 'Round the World
To celebrate the 4th of July, NMAD's Public Historian Dr. Alison Mann, and Dr. R. Scott Stevenson, President and CEO of the Museum of the American Revolution, discussed the Declaration of Independence and what it meant to the global community–including Native American nations–in 1776, and its continued impact and influence on the modern world.