The National Museum of American Diplomacy tells the story of the history, practice, and challenges of American diplomacy. Through exhibitions and programs, we inspire the American public to discover diplomacy and how it impacts their lives every day. No other museum brings diplomatic history to the forefront in its exhibits, and no other institution is solely dedicated to collecting items of diplomacy. Through this work, the museum aims to create a more collaborative world.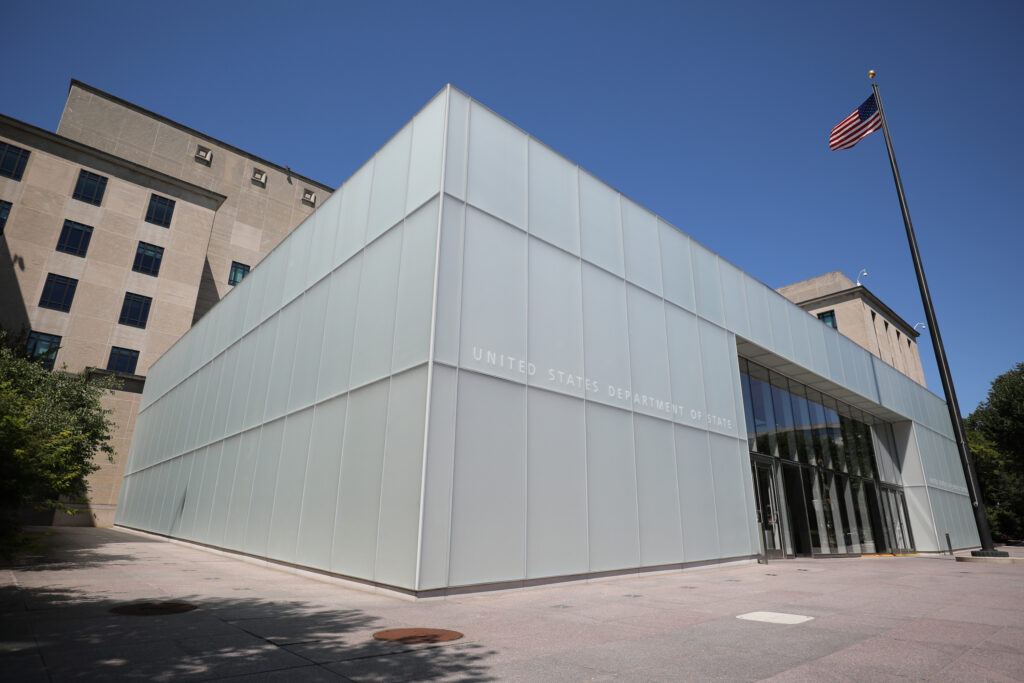 Where We Are
We are located at the 21st Street entrance of the Harry S Truman Building, the home of the U.S. Department of State. Our 20,000-square-foot glass pavilion currently houses multiple exhibits and hosts various events throughout the year.
A Museum to Come
For the first time, visitors will have a unique experience at the only museum in the United States dedicated to the subject of diplomacy. The museum is developing permanent exhibits that will span four halls in the Harry S Truman building. Our existing glass pavilion will house Halls I and IV; Halls II and III will extend further into the Truman building, adding another 20,000 square feet to the museum.

NMAD also has a dedicated gallery space in the mezzanine overlooking the historic lobby. This gallery is the future home of the Read My Pins: The Madeleine Albright Collection exhibit. The exhibit is on loan to the National Museum of American Diplomacy and will be donated to the museum upon the completion of the gallery space.
History
In 2000, Secretary Madeleine Albright approved a plan proposed by the Foreign Affairs Museum Council (FAMC), a nonprofit organization of former ambassadors, members of Congress, and foreign affairs leaders, for a museum exploring American diplomacy.
In 2014, Secretaries Kissinger, Baker, Powell, Albright, Clinton, and Kerry broke ground to start construction on the contemporary two-level glass and steel pavilion, which complements the Art Moderne style of the original 1939 War Department. The pavilion was made possible by the generous donations of individuals, corporations, and third parties who contributed $50 million for its completion in the first fundraising phase.
In October 2015, the museum received the "Signature Segment" of the Berlin Wall, now housed in Hall IV. Construction of the pavilion (Halls I and IV) was completed in January 2017, paving the way for the completion of exhibit design and fabrication.
Today, the museum has a public-private partnership with the Diplomacy Center Foundation (the former FAMC), which helps raise money to complete the museum. Although the State Department provides the venue, staffing, and management of the collections, it is through sponsorship that exhibits and programming can take place.