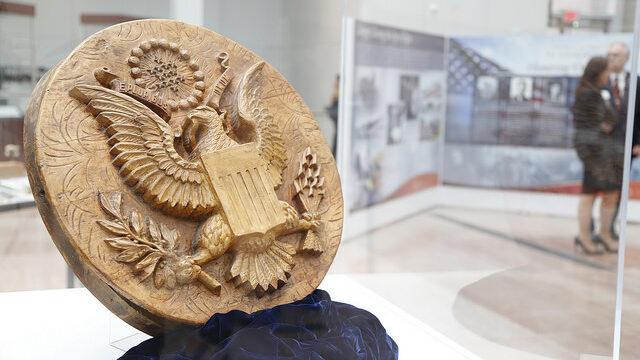 A Century of Service – U.S. Diplomatic Courier Services turns 100
The United States Diplomacy Center is honored to celebrate the centennial anniversary of the Diplomatic Courier Service with a new exhibit, "100 Years of Diplomatic Couriers—None Swifter than These," on display from Oct 31, 2018 through February 3, 2019.
In 1918, General John J. "Black Jack" Pershing authorized U.S. Army Major Amos J. Peaslee to organize a wartime courier service to expedite mail between the U.S. embassy in Paris and Washington. General Peaslee's "Silver Greyhounds," denoted by the greyhound patch on their uniforms, were formally assigned that same year to the U.S. Department of State. The Silver greyhounds became the first U.S. organization dedicated to transport of diplomatic pouches and thus the Diplomatic Courier Service (DCS) was born.
Today, diplomatic couriers spend tens of thousands of hours annually delivering tens of millions of pounds of classified material by air, sea, and land to more than 275 U.S. diplomatic missions around the world. The famous orange pouches have been featured in Hollywood movies and can range from confidential documents to hi-tech devices or even construction equipment.
The exhibit features items used throughout the history of the DCS and how that mission has evolved over the years to keep ahead of evolving threats of espionage, terror, and even bad weather. Also on display are bugging devices, such as the one found in the Great Seal of the United States at the U.S. Embassy in Moscow which resulted in a shift in the diplomatic courier mission—from carrying confidential messages to also transporting construction and other materials for secure areas in U.S. embassies.
Items on display were provided by the Bureau of Diplomatic Security, working in collaboration with the US Diplomacy Center. The exhibit represents the State Department's commitment to highlight the efforts and mission of the Diplomatic Courier Service, whose essential work supports and ensures the safety and integrity of employees and resources in US missions all over the World.
Learn more information on the Courier Service and the Bureau of Diplomatic Security.