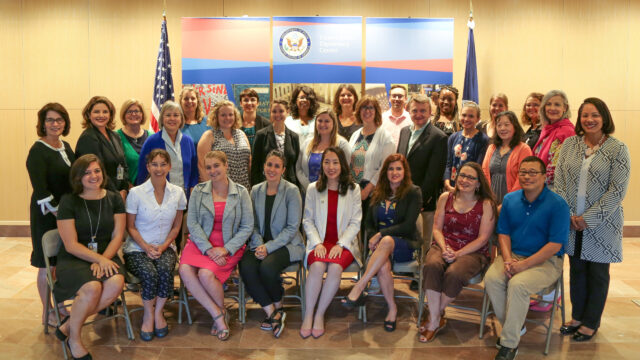 National Museum of American Diplomacy Summer 2022 Teacher Workshop
Dates: July 11-15, 2022
Location: U.S. Department of State, National Museum of American Diplomacy, Washington, D.C. The workshop will include in-person and virtual programming.
Description: The National Museum of American Diplomacy Summer 2022 Teacher Workshop: Preparing Students for College, Career, and Civic Life with Diplomacy Skills will immerse teachers in the work of the U.S. Department of State and the skills of diplomacy. Teachers will:
Interact with State Department subject matter experts and diplomats to discuss the skills and tools they use in their work at home and abroad to address pressing global issues;
Participate in a NMAD Diplomacy Simulation and training to facilitate simulations with students;
Explore NMAD exhibits, resources, and collections to enhance classroom instruction; and
Create plans to incorporate American diplomatic history and practice into their curriculum and guide their students to use the skills of diplomacy in their own lives.
Who Can Participate?
Twenty-five grade 6-12 teachers from the District of Columbia, Alexandria City (VA), Montgomery, Fairfax, Arlington, and Prince George's Counties teaching Social Studies, U.S. History, Government, Modern World History, Language Arts, World languages, or related subjects. Resource Teachers and Specialists will also be considered. Preference will be given to teachers of students who may not have access to diplomats and are unfamiliar with the role diplomacy plays in today's world. Efforts will be made to enroll a diverse cohort.
Why Is This Topic Important for Teachers?
Diplomacy allows people who have diverse values, interests, and perspectives to cooperate to reach a mutually beneficial outcome. The skills that make a successful U.S. diplomat—one who advances American interests and champions American values around the world—are the same skills required of citizens in a democratic society. The National Endowment of the Humanities and U.S. Department of Education-funded study, a Roadmap to Educating for American Democracy, outlines goals to support civic strength through education by integrating themes across grades K-12. The theme "A People in the World" calls for an exploration of "the place of the U.S. and the American people in the global context" and the use of diplomacy. The workshop will equip teachers to bring diplomacy to life for their students.
What Is The Workshop Cost?
The workshop is free. Participants will earn a stipend for agreeing to share with NMAD and other educators how they incorporate American diplomatic history and practice into their curriculum and their students' resulting experiences and projects.
Important Dates
December 1, 2021 – March 31, 2022: Applications Open

April 11 – April 25, 2022: Applicants Notified of Acceptance

April 29, 2022: Deadline for Accepting Offer
Continuing Education Credits
Museum staff will provide documentation of participation, including total contact hours, for all participants. NMAD will also sign school-district specific forms to allow participants to receive professional development credit/hours.
This application is now closed. Please stay tuned for future opportunities.
Acknowledgments: This program is generously funded by a grant from the Morris and Gwendolyn Cafritz Foundation and supported by the museum's partner, the Diplomacy Center Foundation.
About Education Programs at the National Museum of American Diplomacy
Located at the U.S. Department of State in Washington, D.C., the National Museum of American Diplomacy (NMAD) is dedicated to exploring the history, practice, and challenges of American diplomacy. NMAD's education programs equip students to tackle the 21st-century challenges facing our country and the world. They reveal the complexity of international issues and the role that the U.S. Department of State and diplomacy play in protecting the security and prosperity of Americans at home and abroad. NMAD programs invite students and teachers to experience how diplomacy shapes the global challenges that impact our daily lives through virtual and in-person tours of exhibits, Meet a Diplomat programs, monthly Diplomacy Classroom events, and Diplomacy Simulations.
The Diplomacy Simulation Program immerses middle school, high school, and college students in skill-building role-play based on real-world scenarios developed by diplomats and historians. During a diplomatic simulation, students practice doing what diplomats do: building and maintaining relationships; negotiating with allies and adversaries; responding to crises; planning for the future; managing conflict, and channeling competition.
NMAD materials provide educators an engaging way to integrate international content and diplomacy into core curriculum areas. NMAD also offers State Department-run free professional development opportunities and resources for teachers from all U.S. states. Learn more about our Education programs.