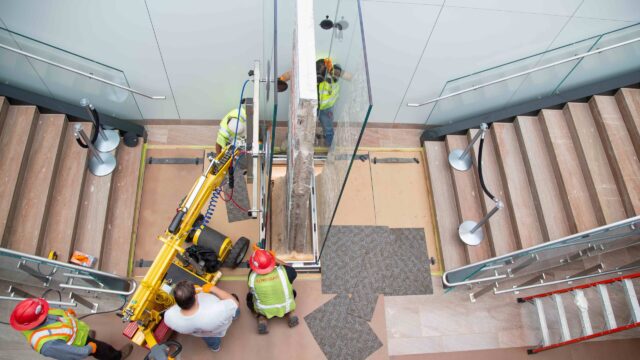 Berlin Wall "Signature Segment" Case Installed
Over a two-week period in early August, the "Signature Segment" of the Berlin Wall located in the National Museum of American Diplomacy's Pavilion was enclosed in a custom-designed glass case. This important project, completed in the run-up to the 30th anniversary of the fall of the Berlin Wall, will ensure that this unique piece of the wall will be preserved and protected for visitors to enjoy for many years. 
The case features specialized museum-quality glass with exceptional clarity and anti-glare properties, which allows visitors an unobstructed view of the wall's unique artwork and the collection of 27 signatures by leaders who played a role in the Berlin Wall's downfall. The wall segment itself is inset into the floor, and the case design includes glass panels surrounding the segment which allow visitors to see every part of the segment, including the six-foot-long concrete "foot" which extends from one side, parallel to the floor. Glass manufacturers based in Germany and Spain provided the custom panels needed to complete the project.  
In October, the new case will be joined by a permanent exhibition on the history of the Berlin Wall and the "Signature Segment" that will be installed adjacent to the wall on the lower level of the Pavilion. This exhibit is designed in conjunction with Smithsonian Exhibits.