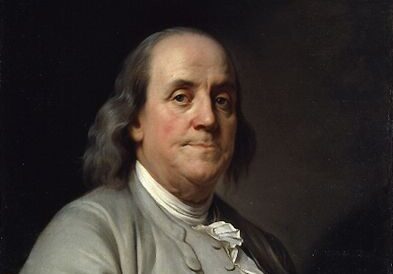 Benjamin Franklin
Recognition/achievement
First American Minister
Role/Rank
Minister Plenipotentiary
Biography
Born in Boston in 1706 as the tenth son of a soapmaker, Benjamin Franklin began his career as an apprentice in his brother's printing business. A restless spirit took him to Philadelphia where he opened his own printing shop. Despite very little formal schooling, Franklin's love for learning and experimentation led him to prominence in Pennsylvania and the rest of the colonies as a printer, scientist, inventor, and statesman. His many accomplishments include the publication of the Philadelphia Gazette and the highly popular Poor Richard's Almanack and the creation of Philadelphia's first fire department, mail service, and public hospital, But it was his scientific interests, which included some of the earliest studies of electricity and the mapping of the Gulf Stream, that gave him an international reputation and, later, credibility as a diplomat in the courts and salons of Europe.
In 1757, Franklin began his diplomatic odyssey when the Pennsylvania colonial assembly commissioned him to go to London to represent the colony in a taxation dispute with the government of King George II. After a long stay in England, Franklin returned to America in 1775 where he was elected to represent Pennsylvania at the Second Continental Congress and participated in the drafting of the Declaration of Independence. Drawing on his international renown, the Continental Congress sent him to France in 1776 as a commissioner for the Colonies during the American Revolution, later elevating with the title Minister Plenipotentiary in 1778. When he presented his credentials to the French court in 1779, he became the first American Minister (the equivalent to a modern ambassador).
Franklin's skillful negotiation and persuasion, which led to the French signing a Treaty of Alliance with the United States of America, giving the newly formed republic international acceptance as well as ongoing military, financial, and political assistance, which in many ways helped the colonies defeat the British in the War for Independence. In addition, Franklin also served as the Minister Plenipotentiary to Sweden, negotiating a treaty with the Swedish government that was signed in Paris in 1783. He was the principal signatory for the United States of the Treaty of Paris in 1783, which severed the colonial bonds with England.
Franklin returned to the United States of America in 1785, where he was active in Pennsylvania politics and society. He participated in the Constitutional Convention in 1787, and witnessed the ratification of the new federal republic before his death in 1790.
Related Links: