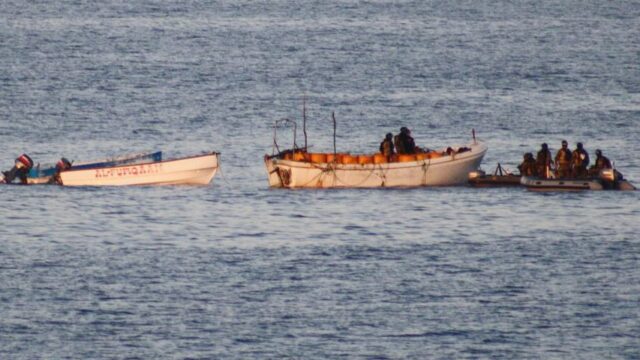 Maritime Pirates
Fighting piracy is a vital element of the United States' strategic objectives in Somalia. The Departments of State and Defense are co-chairs of the U.S. Government Counter-Piracy Steering Group, an executive-level body created to implement the National Action and Partnership Plan to Combat Piracy off the Horn of Africa. U.S. goals also include helping Somalia regain stability, eliminate terrorism, and respond to the humanitarian needs of its people.
Case Study: Gulf of Aden
Pirate attacks in the Gulf of Aden and surrounding waters rose in 2010 and 2011. Four Americans aboard the Quest, a private sailing vessel, were kidnapped and murdered. Pirates killed a Filipino crew member on the merchant vessel Beluga. A Danish family of five was abducted from their yacht. Hundreds of merchant mariners and their vessels remain in the hands of gangs operating outside government control along Somalia's coast. Pirate attacks on the sea represent a serious threat to a range of American and international interests.
Related Links:
Bureau of Political-Military Affairs