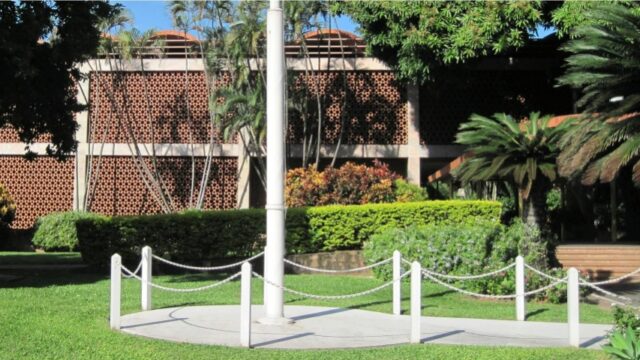 U.S. Embassy Asuncion, Paraguay
The United States established diplomatic relations with Paraguay in 1861, approximately fifty years after Paraguay declared independence from Spain. Post-independence, Paraguay experienced a mix of coups, civil war, and dictatorships, with a more recent transition to civilian leadership and democratic elections. The United States supports the consolidation of Paraguay's democracy and continued economic reform—the cornerstones of cooperation among countries in the hemisphere.
The United States-Paraguay partnership is founded upon a long history of cooperation, strong common interests, an important bilateral trade relationship, and mutual respect between our governments and people. Paraguay is a partner in hemispheric initiatives to improve counter-narcotics cooperation; protect intellectual property rights; and combat money laundering, trafficking in persons, and other illicit cross-border activities. Paraguay has taken significant steps to combat illegal activity in the tri-border area it shares with Argentina and Brazil. It also participates in anti-terrorism programs and fora with its neighbors and the United States.
The U.S. Government aids the Government of Paraguay in stemming corruption, creating jobs, reducing rural poverty, and countering international criminal organizations operating in the country. A particular emphasis is placed on supporting vulnerable groups such as women, girls, indigenous peoples, and youth. U.S. assistance is aimed at improving the stability and security of Paraguay by strengthening democratic institutions and the rule of law, increasing economic opportunities, encouraging a more efficient business environment, and institutionalizing democratic reforms. e United States also looks to Paraguay, which has tropical forest and riverine resources, to engage in hemispheric efforts to ensure sustainable development. Today the U.S. embassy is in Asuncion.
Map Link:
Source:
United States Department of State, Office of the Historian and Bureau of Western Hemisphere Affairs.
Social Links:
https://www.facebook.com/laembajada
Related Links: