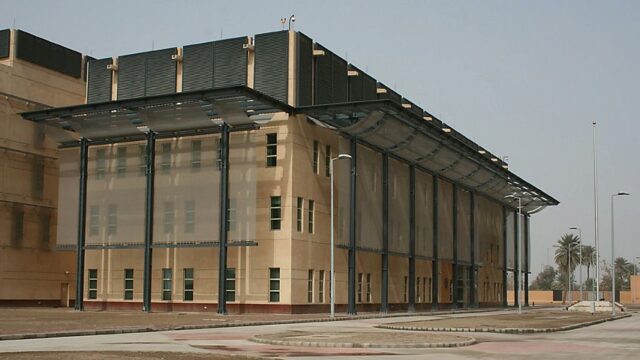 U.S. Embassy Baghdad, Iraq
The first American Consul arrived in Baghdad in 1888 when present-day Iraq was still part of the Ottoman Empire. The United States recognized Iraq as an independent state in 1930 and opened an American Legation in Baghdad the next year, promoting it to Embassy status in 1946.
Iraq severed diplomatic ties with the United States in 1967 as a result of American diplomatic support for Israel during the Arab-Israeli Six-Day War. The U.S. embassy reopened in 1984, but the countries ended diplomatic relations again in 1991 when Saddam Hussein invaded Kuwait and set off the Persian Gulf War.
In 2004 the United States resumed diplomatic relations with the Iraqi Interim Government and established a new Embassy in Baghdad's fortified Green Zone. This new Embassy is the largest embassy in the world. The United States remains dedicated to building a strategic partnership with Iraq and the Iraqi people. The December 2011 departure of U.S. troops from Iraq marked a milestone in our relationship as Iraq continues to develop as a sovereign, stable, and self-reliant country.
Iraq is now a key partner for the United States in the region as well as a voice of moderation and democracy in the Middle East. The United States maintains vigorous and broad engagement with Iraq on a variety of issues in accordance with the U.S.-Iraq Strategic Framework Agreement (SFA). The SFA covers a range of issues, including political relations and diplomacy, defense and security, trade and finance, energy, judicial and law enforcement issues, services, science, culture, education, and environment, and serves as the basis for the U.S.-Iraq bilateral relationship.
U.S. assistance to Iraq has changed over the last several years, shifting from large-scale infrastructure projects to focus on capacity-building, long-term development, assistance to vulnerable groups, and democracy and governance. U.S. security assistance supports the development of a modern, accountable, and professional Iraqi military capable of defending Iraq and its borders. U.S. security assistance programs also promote civilian oversight of the military, adherence to the rule of law, and the respect for human rights, while simultaneously increasing the Iraqi military's capability to respond to threats and conduct counter-terrorism operations.
Today the U.S. embassy is located in Baghdad. There is also a U.S. consulate in Erbil. Learn more about our relationship with Iraq.
Map Link:
Source:
United States Department of State, Office of the Historian and Bureau of Near Eastern Affairs.
Social Links:
https://www.facebook.com/USEmbassyBaghdad
Related Links: