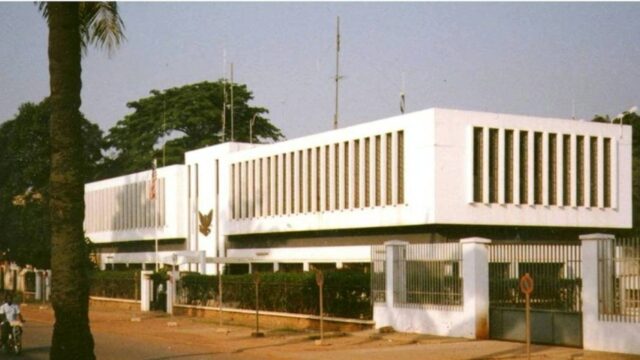 U.S. Embassy Bangui, Central African Republic
The U.S. established diplomatic relations with the Central African Republic (C.A.R.) in 1960, following its independence from France. Due to frequent violence and unrest, the embassy has had to close down and evacuate a few times. The embassy resumed normal operations in September 2014.
The United States and C.A.R. share a vision of a more stable country that enjoys greater stability and security, experiences improved economic growth and development, contributes to regional stability, and is a reliable partner on issues of mutual importance. The United States also supports C.A.R.'s efforts to develop strong institutions that will improve transparency through capacity-building, strengthen the rule of law, and promote unity among Central Africans.
C.A.R. ranks 188 out of 188 countries on the United Nations Human Development Index. From 2020 to 2022, the United States has provided over $300 million of humanitarian, development, and security assistance in support of the C.A.R. people's efforts to find long-term stability and peace. The United States has provided assistance to strengthen the UN mission and humanitarian aid to address the continuing humanitarian crisis in C.A.R.
The United States and C.A.R. have a small amount of bilateral trade. In 2004, the United States removed C.A.R. from the list of countries eligible for preferential trade benefits under the African Growth and Opportunity Act (AGOA). C.A.R. regained eligibility for benefits under AGOA in 2017.
Today the U.S. embassy is located in Bangui.
Map Link:
Source:
United States Department of State, Office of the Historian and Bureau of African Affairs.
Social Links:
https://www.facebook.com/usembassy.bangui
Related Links:
U.S. Embassy in Central African Republic