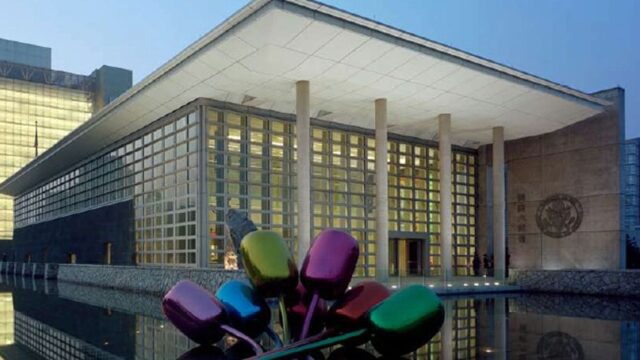 U.S. Embassy Beijing, China
In 1844, the United States and the Empire of China formally recognized each other, leading to the establishment of the U.S. Legation (a diplomatic liaison office) in Beijing in 1862. The Chinese Revolution of 1911 and other political turmoil in China interrupted diplomatic relations briefly, but in 1935 the legation was elevated to an embassy. In the 1940s, the U.S. Embassy moved several times to escape the violence of World War II and the Chinese Communist Revolution. However, in 1949 the embassy moved to Taipei, Taiwan to which the nationalist government fled when Chinese Communists under Mao Zedong established the People's Republic of China on the mainland.
On January 1, 1979, the United States recognized the People's Republic of China and established diplomatic relations with it as the sole legitimate government of China. Today, in addition to the large embassy in Beijing, the United States has consulates in Guangzhou, Shanghai, Shenyang, and Wuhan.
The United States seeks to build a positive, cooperative, and comprehensive relationship with China by expanding areas of cooperation and addressing areas of disagreement, such as human rights and cybersecurity. The United States welcomes a strong, peaceful, and prosperous China playing a greater role in world affairs and seeks to advance practical cooperation with China. There are four annual dialogues held between the United States and China: the Diplomatic and Security Dialogue, the Comprehensive Economic Dialogue, the Law Enforcement and Cybersecurity Dialogue, and the Social and Cultural Issues Dialogue. All serve as a unique platform to promote bilateral understanding, expand consensus, discuss differences, build mutual trust, and increase cooperation.
Map Link:
Source:
United States, Department of State, Office of the Historian and Bureau of East Asian and Pacific Affairs
Social Links:
Related Links:
U.S. Embassy and Consulates in China