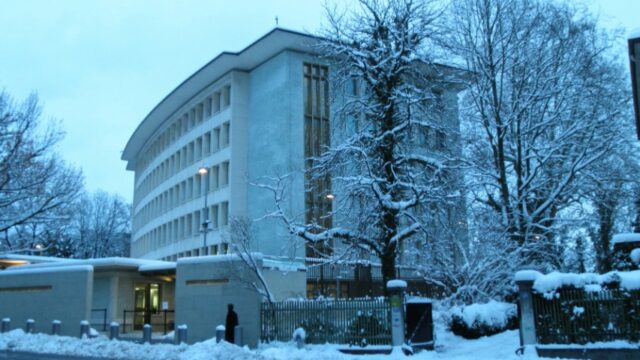 U.S. Embassy Bern, Switzerland
Since the 1820s, the United States and Switzerland have enjoyed consular relations. In 1853, the United States established a Legation in Switzerland.
Switzerland has played an increasingly important role in supporting the spread of democratic institutions and values worldwide, as well as providing humanitarian relief and economic development assistance. U.S. policy toward Switzerland takes these factors into account and seeks to cooperate with Switzerland to the extent consistent with Swiss neutrality.
The United States and Switzerland have signed a number of agreements creating mechanisms that deepen cooperation and improve the relationship: the Enhanced Political Cooperation Framework, the Trade and Investment Cooperation Forum, and the revised Operative Working Arrangement on Law Enforcement Cooperation on Counterterrorism. The centerpiece of the Enhanced Political Cooperation Framework is an annual senior-level meeting, the Joint Working Group.
Another vehicle for bilateral cooperation is the U.S.-Swiss Joint Economic Commission, which covers anti-money laundering efforts, counterterrorism, regulatory cooperation, and intellectual property rights, among other topics. The U.S. Ambassador to Switzerland is also accredited to Liechtenstein.
Today, the U.S. embassy is in Bern.
Map Link:
Source:
United States Department of State, Office of the Historian and Bureau of European and Eurasian Affairs.
Social Links:
https://www.facebook.com/USBotschaftBern/
Related Links:
U.S. Embassy in Switzerland and Liechtenstein