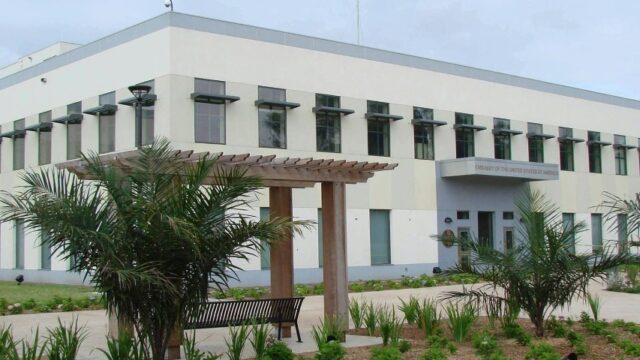 U.S. Embassy Brazzaville, Republic of the Congo
The United States established diplomatic relations with the Republic of the Congo in 1960 following the country's independence from France. Diplomatic relations were suspended in 1965, then resumed in 1977. The country, then the People's Republic of the Congo, had a Marxist government from 1970 to 1991 and enjoyed close relations with the Soviet Union, Cuba, and China.
The United States and the Republic of Congo have worked together on issues of common interest, such as strengthening regional security, improving the living standards of Congolese citizens, and safeguarding the environment. The United States has encouraged Congolese efforts to diversify the economy and improve the business environment.
The United States has partnered with the next generation of Congolese leaders to improve access to knowledge and skills to build a more stable, secure, democratic, and prosperous Congo.
U.S. foreign assistance to the Republic of the Congo includes programs focused on providing hot lunches to schoolchildren and developing mechanized agriculture in participating school communities, protecting and sustainably managing the rich biodiversity of the Congo Basin, and supporting health care efforts to combat HIV, tuberculosis, and malaria. The United States also builds capacity within the armed forces and promotes civil-military relations, including partnering to improve the country's capabilities in maritime security.
Today the U.S. embassy is in Brazzaville.
Map Link:
Source:
United States Department of State, Office of the Historian and Bureau of African Affairs.
Social Links:
https://www.facebook.com/USAEmbassy.Brazzaville
Related Links:
U.S. Embassy in the Republic of Congo