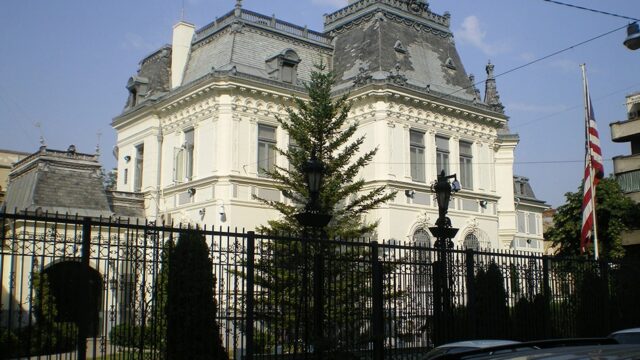 U.S. Embassy Bucharest, Romania
The United States established diplomatic relations with Romania in 1880, soon after its independence from the Ottoman Empire. The two countries severed diplomatic ties after Romania declared war on the United States in 1941 but reestablished them in 1947. Relations remained strained during the Cold War era while Romania was under communist leadership. After the 1989 revolution ended communist rule, however, Romania's policies became unequivocally pro-Western. In the decades that followed, the United States and Romania deepened relations by increasing cooperation on shared goals, including economic and political development, defense reform, and non-traditional threats such as transnational crime and non-proliferation.
In 2011, the United States and Romania identified key areas for enhanced cooperation, focusing on our political-military relationship, law-enforcement cooperation, trade and investment opportunities, and energy security. The United States and Romania are mutually committed to supporting human rights, the rule of law, and peace and freedom for everyone. The two countries are bound together through many people-to-people ties in business, the arts, education, and a host of other exchanges.
Romania's promotion of greater cooperation among its Black Sea neighbors in the areas of defense, law enforcement, energy, economic development, and the environment complements the U.S. goal of enhancing stability in this sensitive and important region. Romania joined the North Atlantic Treaty Organization (NATO) in 2004 and has established itself as a steadfast ally of both the United States and NATO. The country continues to improve its capabilities for NATO and multinational operations and has repeatedly deployed forces and assets in support of shared national security interests, including significant contributions of troops, equipment, and other assistance.
U.S. security assistance supports Romania in completing its military modernization, improving its interoperability with U.S. and NATO forces, and increasing its expeditionary deployment capabilities in support of NATO's collective defense and coalition operations with the United States. Today, the U.S. embassy is in Bucharest.
Map Link:
Source:
United States Department of State, Office of the Historian and Bureau of European and Eurasian Affairs.
Social Links:
https://www.facebook.com/bucharest.usembassy
Related Links: