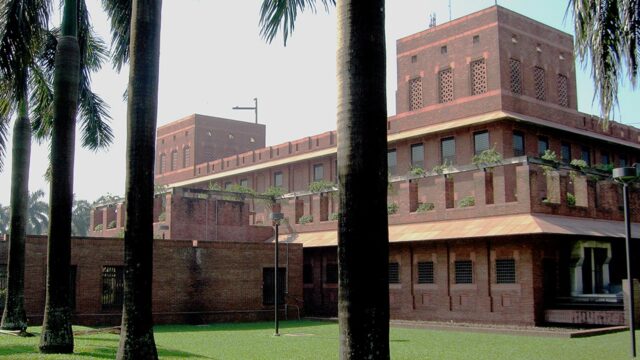 U.S. Embassy Dhaka, Bangladesh
The United States established a consulate in Dhaka (then referred to as "Dacca") in 1949, when what is now called "Bangladesh" was the eastern part of Pakistan. Diplomatic relations and the American embassy in Dhaka were established in 1972, soon after Bangladesh became independent.
The United States and Bangladesh share a vision for an inclusive, secure, and prosperous future. Our annual U.S.-Bangladesh Partnership Dialogue helps advance shared bilateral, regional, and global objectives and gives strategic direction to ongoing and future cooperative activities.
Bangladesh has made significant progress toward a more prosperous and pluralistic society since its independence in 1971. The United States remains actively engaged in efforts to strengthen respect for labor rights and improve workplace safety. Despite significant development achievements, poverty remains a challenge, as do infrastructure shortcomings, weak governance structures, and the need for greater investment in human capital.
Bangladesh is the largest recipient of U.S. assistance in Asia outside of Afghanistan and Pakistan. U.S. assistance fosters engagement with the Government of Bangladesh—helping to grow more food, build more roads, and train more skilled teachers, health care providers, and soldiers. The United States continues to build upon previous gains to reduce poverty, enhance food security, improve health and education, mitigate the impact of climate change and natural disasters, counter violent extremism, and achieve better governance to spur equitable and sustainable growth. Today the U.S. embassy is in Dhaka.
Map Link:
Source:
United States Department of State, Office of the Historian and Bureau of South and Central Asian Affairs.
Social Links:
https://www.facebook.com/bangladesh.usembassy
Related Links: