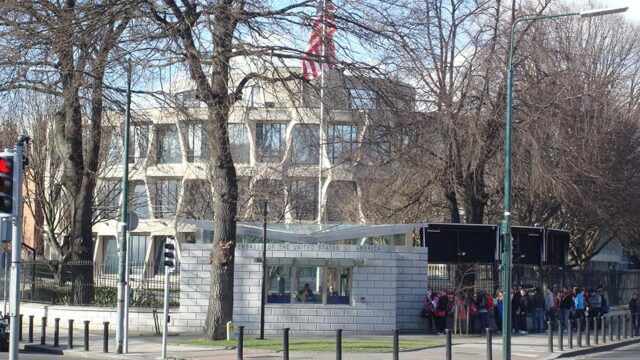 U.S. Embassy Dublin, Ireland
Ireland gained independence from the United Kingdom in 1921, when representatives of the two states signed the Anglo-Irish Treaty. This agreement provided independence for 26 counties, constituted as the Irish Free State, while six counties of northeast Ulster chose to remain a part of the United Kingdom with limited self-government. Strong U.S.-Irish connections date to the mid-19th century when a large number of Irish immigrants came to the United States. U.S. relations with Ireland have long been based on common ancestral ties and shared values. Emigration also forms an important foundation of the U.S.-Irish relationship. In addition to regular dialogue on political and economic issues, the U.S. and Irish governments benefit from a robust slate of exchanges in areas such as commerce, culture, education, and scientific research. With Ireland's membership in the European Union (EU), discussions of EU trade and economic policies, as well as other aspects of broader EU policy, constitute key elements in the U.S.-Ireland relationship. Irish citizens have made it common practice for many years of taking temporary residence overseas for work or study, including the United States. The U.S. J-1 visa Summer Work Travel program is a popular means for Irish youth to work temporarily in the United States. Regarding the situation in Northern Ireland, "Nationalist" and "Republican" groups seek a united Ireland that includes Northern Ireland, while "Unionists" and "Loyalists" want Northern Ireland to remain part of the United Kingdom. The United States seeks to support the peace process and devolved political institutions in Northern Ireland by encouraging the implementation of the U.S.-brokered 1998 Belfast Agreement (also known as the Good Friday Agreement), the 2006 St. Andrews Agreement, the 2014 Stormont House Agreement, and the 2015 Fresh Start Agreement. Today the U.S. embassy is in Dublin. For more information on our relationship with Ireland, please click here.
Map Link:
Source:
United States Department of State, Office of the Historian and Bureau of European and Eurasian Affairs.
Social Links:
http://www.twitter.com/usembassydublin http://www.facebook.com/usembassydublin
Related Links: