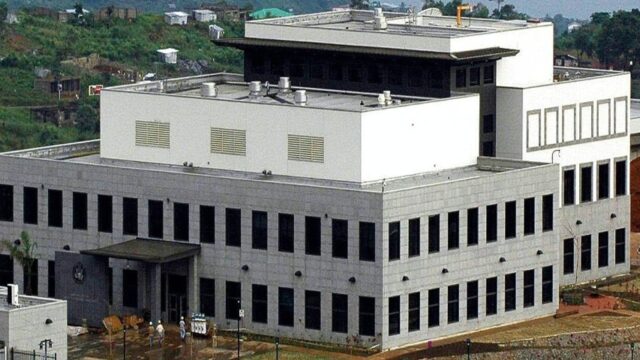 U.S. Embassy Freetown, Sierra Leone
The U.S. established diplomatic relations with Sierra Leone in 1961, following its independence from the United Kingdom. The United States and Sierra Leone enjoy a warm and cordial relationship. The two countries are linked by the history of slavery in the United States, an institution that would send a large number of African slaves from present-day Sierra Leone to the then-colonies of Georgia and South Carolina. In early 2014, the United Nations hailed Sierra Leone as a success story due to its remarkable post-conflict transition following a brutal civil war (1991-2002), which destroyed the country's infrastructure and hampered its political, social, and economic development. Sierra Leone's positive trajectory was interrupted in May 2014 when the deadly Ebola epidemic struck and quickly overtook the country's fragile health care system. The outbreak was declared contained in November 2015. Since then, the government launched an ambitious recovery plan that has received significant donor support.
Sierra Leone relies on significant amounts of foreign assistance from both bilateral and multilateral donors. The United States is among the largest bilateral donors, with emergency assistance spiking due to the Ebola crisis. Mission partners comprised of the State Department, Department of Defense, USAID, CDC, Peace Corps, and the Millennium Challenge Corporation totaled an estimated $600 million in the fight against the outbreak. Post-Ebola programming is aimed at strengthening the healthcare system, bolstering infection prevention procedures, and enhancing supply chain accountability. The CDC is working closely with the government to set up a public health institute to enhance the government's ability to better predict and combat Ebola and other diseases like malaria. There are also plans to staff a permanent CDC office in the country.
U.S. exports to Sierra Leone include transportation equipment, agricultural products, machinery, and chemicals, while its imports from Sierra Leone include minerals, metals, machinery, and agricultural products. Sierra Leone is eligible for preferential trade benefits under the African Growth and Opportunity Act. The two countries do not have a bilateral investment treaty. On September 17, 2012, senior officials for both countries signed an Open Skies air services agreement.
Today, the U.S. embassy is in Freetown.
Map Link:
Source:
United States Department of State, Office of the Historian and Bureau of African Affairs
Social Links:
https://www.facebook.com/sierraleone.usembassy
Related Links: