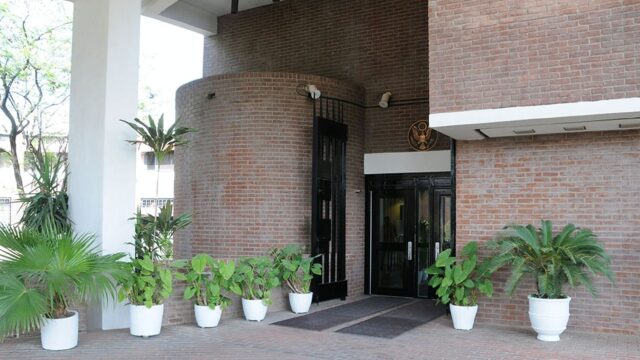 U.S. Embassy Islamabad, Pakistan
The United States and Pakistan have enjoyed a close relationship since Pakistan's independence in 1947. Pakistan has historically been a supporter of U.S. foreign policy, specifically during the United States' opening to China and following the Soviet invasion of Afghanistan. For its part, the United States has striven to lessen tensions between Pakistan and India. Although relations between the United States and Pakistan remain somewhat unsettled over regional disputes and Pakistan's nuclear weapons program, the United States has provided Pakistan with economic aid through loans and debt relief and is a major supplier of military equipment to Pakistan. The United States and Pakistan have a broad multi-faceted partnership in areas ranging from education to energy to trade and investment. Furthermore, the United States and Pakistan maintain a strong security partnership that is working to dismantle terrorist networks. In 2009, as Pakistan transitioned back to civilian-led governance, the United States affirmed that sustained U.S. engagement with Pakistan's civilian institutions and people – including through civilian assistance – is important to realizing our shared interest of Pakistan becoming a more secure, prosperous and stable democracy that successfully counters all forms of violent extremism and contributes to stability in the region. U.S. civilian assistance to Pakistan is focused on five priority areas: energy; economic growth, including agriculture; community stabilization of underdeveloped areas vulnerable to violent extremism; education; and health. U.S. security assistance to Pakistan is focused on strengthening the counterterrorism and counterinsurgency capabilities of the Pakistan security forces, and promoting closer security ties and interoperability with the United States. Today the U.S. embassy is in Islamabad. There are also U.S. Consulate Generals in Karachi, Lahore, and Peshawar. For more information on our relationship with Pakistan, please click here.
Map Link:
Source:
United States Department of State, Office of the Historian and Bureau of South and Central Asian Affairs.
Social Links:
http://www.twitter.com/usembislamabad http://www.facebook.com/pakistan.usembassy
Related Links: