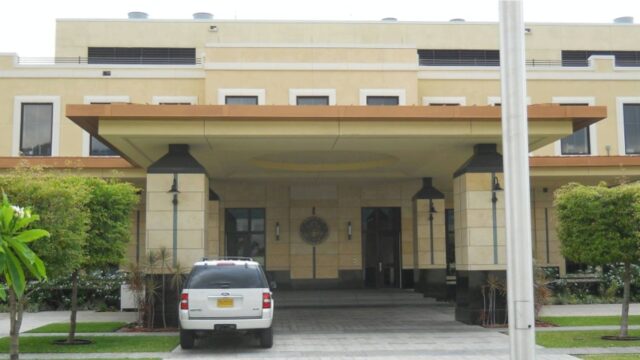 U.S. Embassy Kingston, Jamaica
Throughout the 19th century the United States maintained several consular posts throughout Colonial British Jamaica, the earliest at Montego Bay and Falmouth dating from 1861. These posts, which were placed to monitor American trade interests in the Caribbean, were all closed by September 1919. The United States established diplomatic relations with Jamaica in 1962 following its independence from the United Kingdom.
The United States and Jamaica maintain strong and productive relations, based on trust and mutual interest. This close friendship is built on a foundation of people-to-people ties and a vibrant Jamaican-American community. The United States is Jamaica's most important trading partner. An important destination for U.S. investment, Jamaica has generally been a supportive partner in efforts – bilaterally, regionally, and globally – to liberalize trade.
The United States provides key assistance to Jamaica to help counter violent crime and transnational criminal activity. The partnership focuses on reducing corruption; increasing transparency and good governance; fostering Jamaican participation in regional security efforts; strengthening basic education; and increasing adaptation to climate change. Regional HIV/AIDS and security programs complement U.S. assistance. Today, the US embassy is in Kingston. For more information on our relationship with Jamaica, please click here.
Map Link:
Source:
Source, United States Department of State, Office of the Historian and Bureau of Western Hemisphere Affairs.
Social Links:
http://www.facebook.com/pages/US-Embassy-Jamaica/143560048536?filter=1
Related Links: