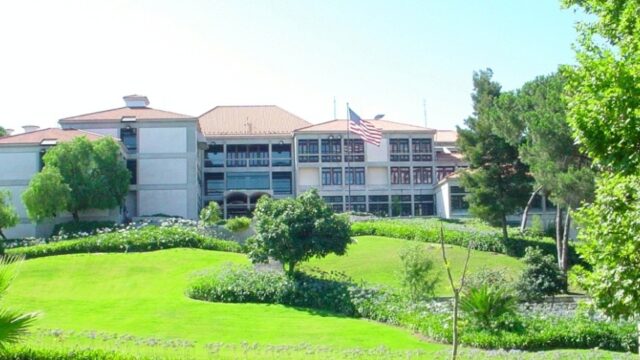 U.S. Embassy Lisbon, Portugal
United States-Portugal bilateral ties date from the earliest years of the United States when Portugal was among the first countries to recognize the United States following the Revolutionary War. The oldest continuously-operating U.S. Consulate is in Ponta Delgada on the island of Sao Miguel in the Azores. Contributing to the strong ties between the United States and Portugal are the presence of sizeable Portuguese-American communities across the United States. The United States and Portugal cooperate in the United Nations, in various regional organizations, and bilaterally for peace, prosperity, and security. Portugal is a member of the European Union. Portugal became a charter member of NATO in 1949. It is an active member of the Alliance, and in 2016 its forces were deployed to various NATO operations. The United States also operates the U.S. Air Force's 65th Air Base Group from Lajes Field, a Portuguese airbase on Terceira Island in the Azores that serves as a logistics hub for U.S Transportation Command, U.S. European Command, and NATO allies. Portugal is a strong partner in combating terrorism, most recently having deployed military trainers to Iraq in the fight against ISIL. Portugal's law enforcement cooperation with the United States and other international partners to combat drug trafficking is outstanding, featuring multiple, highly successful joint investigations throughout 2015 and 2016. Today, the U.S. embassy is in Lisbon. There is also a U.S. Consulate General in Ponta Delgada. For more information on our relationship with Portugal, please click here.
Map Link:
Source:
United States Department of State, Office of the Historian and Bureau of European and Eurasian Affairs.
Social Links:
Tweets by USEmbPortugal http://www.facebook.com/usdos.portugal
Related Links: