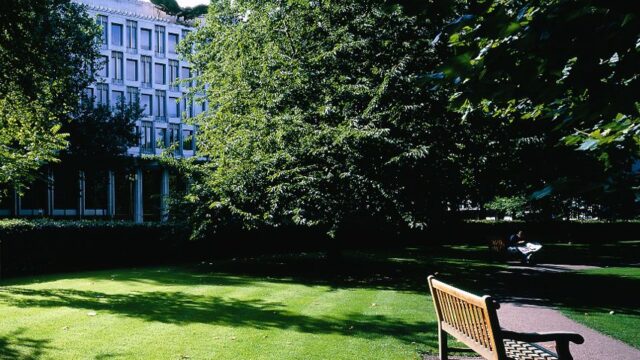 U.S. Embassy London, The United Kingdom
The first, short-lived British colony in Virginia was organized in 1584, and permanent English settlement began in 1607. The United States declared its independence from Great Britain in 1776, and the United Kingdom recognized U.S. independence in 1783. The two countries established diplomatic relations in 1785 when John Adams presented his credentials to King George III. The United States broke diplomatic relations with Great Britain during the War of 1812, but reestablished them in 1815 after the war's conclusion. In 1893 the U.S. Legation in London became an embassy. In 1938, the embassy moved to Grosvenor Square, and during World War II the Square was flanked by the Chancery on one side and General Eisenhower's headquarters on the other side. In 2008 the United States purchased a new site for an Embassy which opened in 2018. The United States has no closer ally than the United Kingdom, and British foreign policy emphasizes close coordination with the United States. Bilateral cooperation reflects the common language, ideals, and democratic practices of the two nations. Relations were strengthened by the United Kingdom's alliance with the United States during both World Wars, in the Korean conflict, in the Persian Gulf War, in Operation Iraqi Freedom, and in Afghanistan, as well as through its role as a founding member of the North Atlantic Treaty Organization (NATO). The United Kingdom and the United States continually consult on foreign policy issues and global problems and share major foreign and security policy objectives. The United States and the United Kingdom also share the world's largest bilateral foreign direct investment partnerships. Regarding Northern Ireland, which is part of the United Kingdom, "Nationalist" and "Republican" groups seek a united Ireland that includes Northern Ireland, while "Unionists" and "Loyalists" want Northern Ireland to remain part of the United Kingdom. U.S. priorities continue to be supporting the peace process and devolved political institutions in Northern Ireland and encouraging the implementation of the U.S.-brokered 1998 Belfast Agreement, also known as the Good Friday Agreement, and the 2006 St. Andrews Agreement. Today, the U.S. embassy is in London. There are also U.S. Consulate Generals in Belfast and Edinburgh. For more information on our relationship with the United Kingdom, please click here.
Map Link:
Source:
United States Department of State, Office of the Historian and Bureau of European and Eurasian Affairs.
Social Links:
http://www.facebook.com/uk.usembassy
Related Links: