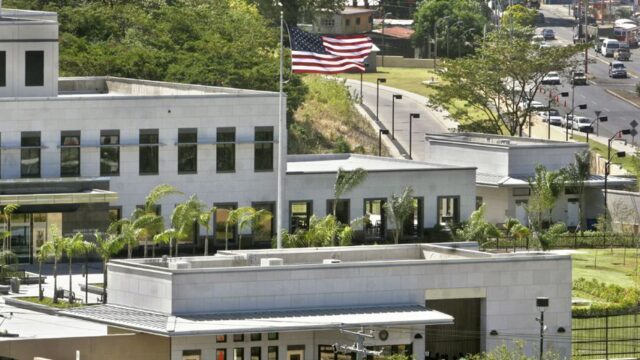 U.S. Embassy Managua, Nicaragua
The United States recognized independent Nicaragua in 1849. Although relations were rocky following 1988, when the Sandinista government expelled the U.S. Ambassador and several other American diplomats, relations on the ambassadorial level were resumed in 1990. The U.S. government works in Nicaragua to promote prosperity, security, and democratic governance. The recent deterioration of Nicaragua's democratic institutions is an area of significant concern for the United States. U.S. assistance aims to increase citizens' ability to engage in democratic governance through training for emerging democratic leaders, strengthening civil society engagement, supporting an independent media, and improving local governance. The United States has called on the Nicaraguan government to protect universal human rights, and has said that it will continue to support civil society and promote human rights in Nicaragua. The Government of Nicaragua and the United States cooperate on law enforcement, counter-narcotics, countering migrant flows, disaster preparedness and response, trade facilitation, and other matters in our mutual national interests. U.S. assistance to Nicaragua also promotes economic prosperity and the expansion of citizen security. U.S. government programs advance broad-based economic stability and growth through market-led food security and productivity, support the growth of small and medium-sized enterprises including those owned by vulnerable populations, and encourage socially and environmentally responsible sustainable growth. By improving reading performance, enhancing work force and life-skills, and increasing community engagement to create positive and safe environments for at-risk children and youth, U.S. assistance aims to deter involvement in illicit activities and increase opportunities for Nicaraguans by working directly with civil society, local communities, and the private sector. Today, the US embassy is in Managua. For more information on our relationship with Nicaragua, please click here.
Map Link:
Source:
United States Department of State, Office of the Historian and Bureau of Western Hemisphere Affairs.
Social Links:
http://www.facebook.com/embusanic
Related Links: