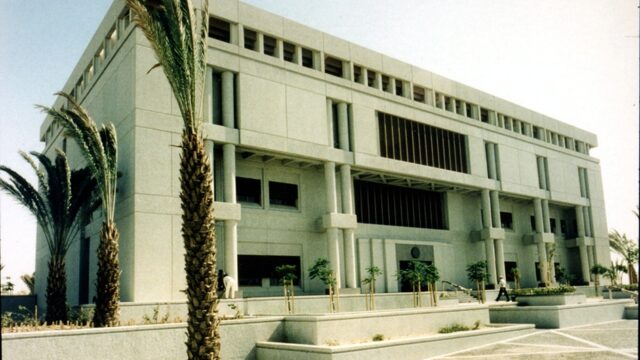 U.S. Embassy Manama, Bahrain
Bahrain declared independence from the United Kingdom in 1971, the same year the United States established diplomatic relations with the new country. Bahrain plays a key role in regional security and is a vital U.S. partner in defense initiatives. Bahrain hosts the U.S. Navy's Fifth Fleet and participates in U.S.-led military coalitions. Bahrain was the first Arab state to lead a Coalition Task Force patrolling the Gulf and has supported the coalition counter-piracy mission. The United States designated Bahrain a Major Non-NATO Ally in 2002. U.S. assistance enables Bahrain to continue to obtain the equipment and training it needs to provide for its own defense and to operate alongside U.S. air and naval forces. U.S. assistance also boosts Bahrain's maritime defenses against smuggling and terrorists and improves Bahrain's ability to deny terrorist support in a manner that respects the human rights of its residents. As Bahrain continues to experience political and social unrest, the United States continues to urge the Government of Bahrain to take steps to implement reforms and to promote national reconciliation, both through dialogue with political and civil society and through engagement with Bahrain's parliament. Today the U.S. embassy is located in Manama. For more information on our relationship with Bahrain, please click here.
Map Link:
Source:
United States Department of State, Office of the Historian and Bureau of Near Eastern Affairs.
Social Links:
http://www.twitter.com/USEmbassyManama http://www.facebook.com/AmericanEmbassyManama
Related Links: