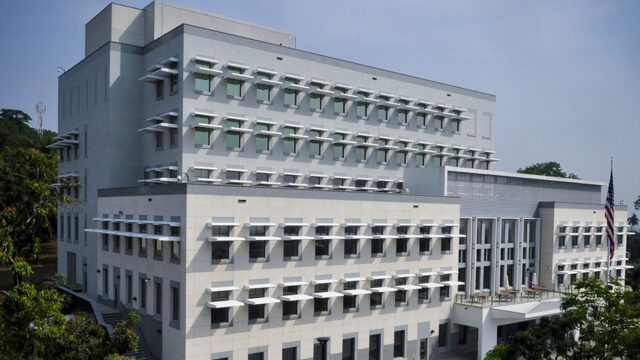 U.S. Embassy Monrovia, Liberia
The nation of Liberia was formed in 1822 when the American Colonization Society founded a settlement for freedmen and recaptured slaves in West Africa, naming its capital Monrovia after U.S. President James Monroe. The settlement became a republic in 1847, and the United States recognized the Republic of Liberia in 1862. In 1864 the U.S. Legation in Monrovia was established, eventually being elevated to embassy status in 1949. Liberia is recovering from the impact of the 2014-2015 Ebola epidemic. Following the Ebola crisis, the United States continues to partner with government donors, international organizations especially the World Health Organization, and civil society to strengthen health systems in Liberia. U.S. assistance and engagement is critical to Liberia's future. U.S. assistance is focused on consolidating democratic progress; improving capacity, transparency, and accountability of governance institutions; promoting broad-based, market-driven economic growth; improving access to high-quality educational and health services; and professionalizing Liberia's military and civilian security forces, while helping Liberia build capacity to plan, implement, and sustain its own development efforts in each sector. Today the U.S. embassy is in Monrovia. For more information on our relationship with Liberia, please click here.
Map Link:
Source:
United States Department of State, Office of the Historian and Bureau of African Affairs.
Social Links:
http://www.twitter.com/embassymonrovia http://www.facebook.com/monrovia.usembassy
Related Links: