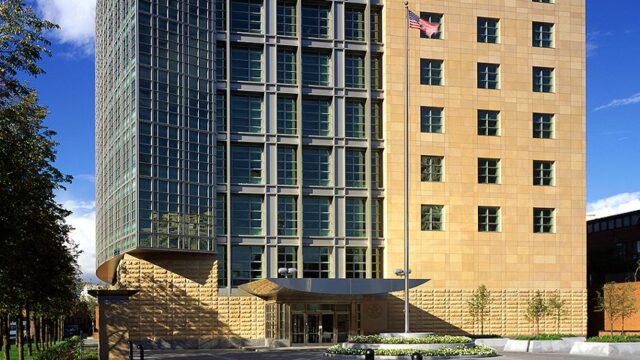 U.S. Embassy Moscow, Russia
In 1803 the Russian Empire recognized the still-fledgling United States of America, and six years later the two countries exchanged Ministers. The U.S. Legation in St. Petersburg became an embassy in 1898, but after the Bolshevik Revolution of 1917 the United States refused to recognize the new government of the Union of Soviet Socialist Republics (USSR). It was not until 1933, when a new embassy opened in Moscow, that recognition was extended. Relations between the United States and the USSR remained rocky throughout the Cold War, but diplomatic ties were never severed. When the Soviet Union dissolved in 1991, the United States recognized the new Russian Federation as the successor to the Soviet Union. The United States has long sought a full and constructive relationship with Russia. Following the dissolution of the Soviet Union in 1991, the United States adopted a bipartisan strategy to facilitate cooperation on global issues and promote foreign investment and trade. The United States supported Russia's integration into European and global institutions and a deepened bilateral partnership in security cooperation to reinforce the foundations of stability and predictability. In response to the Russian violation in 2014 of Ukraine's sovereignty and territorial integrity, however, the United States downgraded the bilateral political and military relationship and suspended the Bilateral Presidential Commission, a body jointly founded in 2009 by the United States and Russia to promote cooperation between the two countries. In addition to ongoing Russian aggression in Georgia and Ukraine, Russia aims to undermine core institutions of the West, such as the North Atlantic Treaty Organization (NATO) and the European Union and to weaken faith in the democratic and free-market system. The United States has sought to deter further Russian intervention through the projection of strength and unity with U.S. allies, and by building resilience and reducing vulnerability among allies facing Russian pressure and coercion. The United States would like to move beyond the current low level of trust with Russia, stabilize our relationship, and cooperate where possible and when in core U.S. national security interests. In response to Russia's ongoing violations of Ukraine's sovereignty and territorial integrity, the United States has suspended most bilateral engagement with the Russian government on economic issues. The United States continues to investigate allegations of mistreatment of or discrimination against U.S. investors in Russia and to urge Russia to improve its investment climate, adherence to the rule of law, and transparency. Today, the U.S. embassy is in Moscow. There are also U.S. Consulate Generals in Vladivostok and Yekaterinburg. For more information on our relationship with Russia, please click here.
Map Link:
Source:
United States Department of State, Office of the Historian and Bureau of European and Eurasian Affairs.
Social Links:
http://www.facebook.com/russia.usembassy
Related Links: