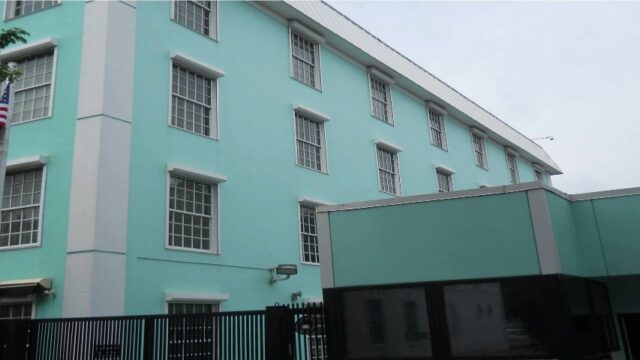 U.S. Embassy Nassau, Bahamas
The United States established diplomatic relations with The Bahamas in 1973 following its independence from the United Kingdom. As a neighbor, The Bahamas and its political stability are especially important to the United States. The United States and the Bahamian Government have worked together on reducing crime and addressing illegal migration issues. With the closest island only 50 miles from the coast of Florida, The Bahamas often is used as a gateway for drugs, weapons, and illegal aliens bound for the United States. The United States and The Bahamas cooperate closely to address these threats. U.S. assistance and resources have been essential to Bahamian efforts to mitigate the persistent flow of illegal narcotics, guns, and migrants through the archipelago. The United States and The Bahamas also actively cooperate on law enforcement, civil aviation, marine research, meteorology, and agricultural issues. The U.S. Navy operates an underwater research facility on Andros Island.
U.S. foreign assistance to The Bahamas supports the key goals of improving maritime and border security, bolstering law enforcement and counternarcotic efforts, including demand reduction, strengthening the criminal justice system, and improving interdiction capabilities. Regional security programs complement bilateral aid, providing further assistance for law enforcement, citizen safety, and rule-of-law programs.Today, the US embassy is in Nassau. For more information on our relationship with The Bahamas, please click here.
Map Link:
Source:
Source, United States Department of State, Office of the Historian and Bureau of Western Hemisphere Affairs.
Social Links:
http://www.facebook.com/USEmbassyNassau
Related Links: