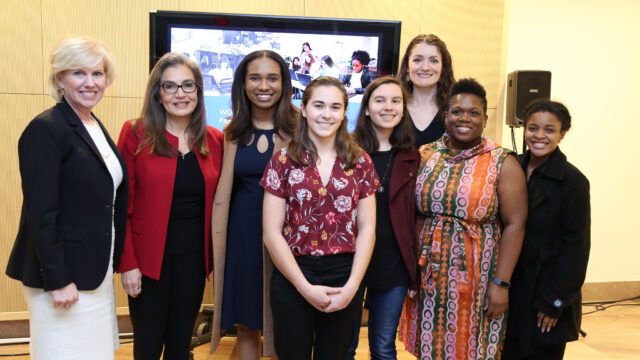 U.S. Embassy Ottawa, Canada
When Canada received its independence from the United Kingdom through the Balfour Declaration on February 18, 1927, the United States established formal diplomatic relations which have been constructive and productive for over eight decades. The United States established a legation on June 1, 1927, which was elevated to embassy status on November 19, 1943. Today, the U.S. Mission includes over 300 American and Canadian staff serving in Ottawa and seven consulates in Calgary, Halifax , Montreal, Quebec, Toronto, Winnepig and Vancouver, with representation from multiple U.S. government agencies.
The current embassy building was completed in 1999 to house the high degree of activity and personnel required to manage the diplomatic affairs of the two countries. The magnificence of the structure is designed to convey the significance of the U.S.-Canadian relationship. In addition, the grounds are filled with a variety of arts and crafts from around the United States which signify the broad spectrum of American art and culture and seek to display the deep connection of the two countries.
Originating from a common colonial and political background, and joined by the longest national border in the world (8893km or 5526mi), the two countries are linked both economically and culturally. While bilateral trade constitutes over $1.6 billion per day, current concerns are border security issues, including monitoring legal and illegal passage of the more than 300,000 daily border crossings. The two countries conduct extensive bilateral work on environmental and water issues, such as the Clean Energy Dialogue, and have joint interests in the Arctic and fishing rights. Bilateral investment is a major component of their mutual prosperity, and Canada is the United States' largest supplier of foreign energy.
Their geographical and ideological closeness has seen the United States and Canada allied in many international organizations, including the United Nations, the North Atlantic Treaty Organization, the North American Free Trade Agreement, the Organization of American States, and the Asia-Pacific Economic Cooperation, Trans-Pacific Partnership negotiations through which they are mutually supportive of democracy and human rights, international peace and security, free trade and environmental cooperation among other issues. For more information on our relationship with Canada, please click here.
Map Link:
Source:
Source, United States Department of State, Office of the Historian and Bureau of Western Hemisphere Affairs.
Social Links:
Tweets by usembassyottawa http://www.facebook.com/canada.usembassy
Related Links: