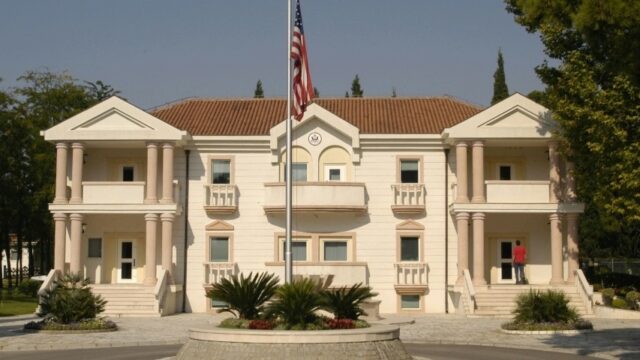 U.S. Embassy Podgorica, Montenegro
The United States recognized the Republic of Montenegro in 1905, when President Theodore Roosevelt approved the Diplomatic and Consular Act, which assigned the U.S. Mission to Greece responsibility for American representation in Montenegro. After World War I, Montenegro was subsumed into the Kingdom of Serbs, Croats, and Slovenes, and U.S.-Montenegro diplomatic relations ended in 1920. The United States reestablished diplomatic relations with Montenegro in 2006 following the dissolution of the union of Serbia and Montenegro. The relationship between the United States and Montenegro has promoted peace and prosperity in the region and around the world. U.S. policy toward Montenegro is structured to help the country transition to a prosperous, market-based democracy, fully integrated into Euro-Atlantic institutions including the North Atlantic Treaty Organization (NATO) and the European Union. On June 5, 2017, Montenegro joined NATO as the thirtieth member and Montenegro and the European Union opened accession negotiations in 2012. Montenegro has demonstrated its commitment to international peacekeeping efforts, including in Afghanistan where it has contributed troops to the International Security Assistance Force and Resolute Support Mission. U.S. Government assistance to Montenegro aims to help the country advance toward Euro-Atlantic integration, increase its ability to fight organized crime and corruption, strengthen its civil society and democratic structures, and provide stability in the Balkans. Today, the U.S. embassy is in Podgorica. For more information on our relationship with Montenegro, please click here.
Map Link:
Source:
United States Department of State, Office of the Historian and Bureau of European and Eurasian Affairs.
Social Links:
Tweets by USEmbassyMNE http://www.facebook.com/montenegro.usembassy?ref=mf
Related Links: