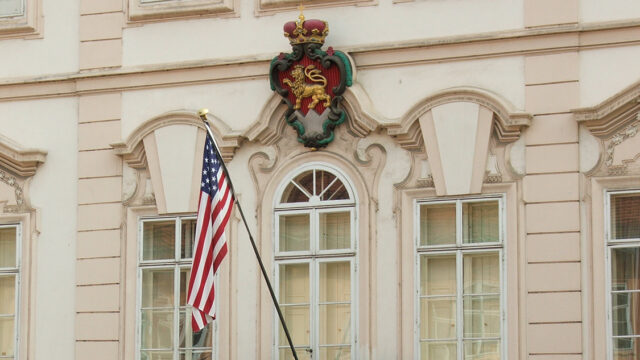 U.S. Embassy Prague, Czech Republic
The Czech Republic was established in 1993, out of the former Czech and Slovak Federal Republic (commonly known as Czechoslovakia). Since independence, the Czechs have made integration into Western institutions their chief foreign policy objective and are part of the North Atlantic Treaty Organization (NATO) and the European Union (EU). Relations between the United States and the Czech Republic are excellent and reflect the common approach both have to the many challenges facing the world. Our countries have worked together to strengthen security, promote economic development and democratic values, and defend basic human rights. The United States looks to the Czech Republic as a partner in regions around the world, including Afghanistan as part of NATO's Operation Enduring Freedom and Syria. U.S. security assistance programs for the Czech Republic seek to strengthen Czech capabilities, enhance interoperability with U.S. and NATO forces, and provide opportunities for professional and technical education of military officers and noncommissioned officers, civilian leaders, and other specialists. Effective July 1, 2016, "Czechia" became the official short form name for the country for use in informal contexts. Czech Republic remains the country's official name. Today, the U.S. embassy is in Prague. For more information on our relationship with the Czech Republic, please click here.
Map Link:
Source:
United States Department of State, Office of the Historian and Bureau of European and Eurasian Affairs.
Social Links:
http://www.twitter.com/USEmbassyPrague http://www.facebook.com/USEmbassyPrague
Related Links: