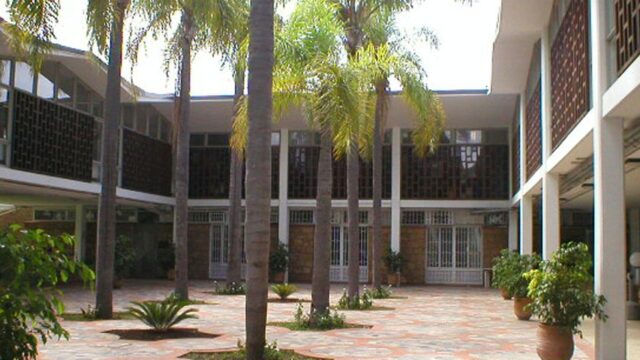 U.S. Embassy Rabat, Morocco
On June 23, 1786 Morocco became one of the first nations to formally recognize the United States, and the two countries signed a treaty of peace and friendship. The United States established a consulate in Morocco in 1797 and in 1821 Sultan Moulay Suliman provided a home for the American Consul General which is now the oldest American diplomatic property in the world. Diplomatic relations were fully established in 1905 when the American consulate at Tangier was elevated to the status of a legation. Morocco become a French protectorate in 1912 but won independence from France in 1956. At that time, the United States established an embassy.
The two countries share common concerns and consult closely on regional security and sustainable development. Morocco is a strong partner in counterterrorism efforts, and it works closely with U.S. law enforcement to safeguard both countries' national security interests. U.S. assistance to Morocco enhances the Government of Morocco's capacity to promote security and prevent acts of terrorism, while addressing core drivers of instability and violent extremism, such as political and social marginalization, especially of youth. Today the U.S. embassy is in Rabat. There is also a U.S. Consulate in Casablanca. For more information on our relationship with Morocco, please click here.
Map Link:
Source:
United States Department of State, Office of the Historian and Bureau of Near Eastern Affairs.
Social Links:
https://twitter.com/USEmbMorocco https://www.facebook.com/USEmbassyRabat
Related Links: