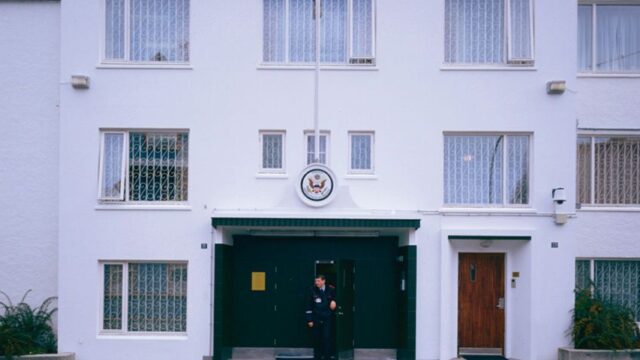 U.S. Embassy Reykjavik, Iceland
The German occupation of Denmark in 1940 severed close ties to Denmark. Iceland was then occupied by British troops and then, in 1941, by U.S. troops. In 1941 the United States established diplomatic relations with Iceland, who achieved full independence and formally became a republic in 1944. In 1947, the Department of State purchased the building for an American Legation to Iceland, which was elevated to embassy status in 1955. The original legation building, and others adjacent and nearby, have remained the home of the U.S. Mission in Iceland for more than half a century, undergoing several renovations and technological upgrades.
The U.S.-Icelandic relationship is founded on cooperation and mutual support. The two countries share a commitment to individual freedom, human rights, and democracy. U.S. policy aims to maintain close, cooperative relations with Iceland, both as a NATO ally and as a friend interested in the shared objectives of enhancing international cooperation on pressing global issues; respect for human rights; economic development; arms control; and law enforcement cooperation, including the fight against terrorism, narcotics, and human trafficking. The United States and Iceland work together on a wide range of issues from fighting ISIS, to enhancing peace and stability in Afghanistan, to harnessing new green energy sources, to ensuring peaceful cooperation in the Arctic.
Iceland is a founding member of the North Atlantic Treaty Organization (NATO) but has no standing military of its own. The United States and Iceland signed a bilateral defense agreement in 1951; it remains in force, although U.S. military forces are no longer permanently stationed in Iceland. Today the U.S. embassy is in Reykjavik. For more information on our relationship with Iceland, please click here.
Map Link:
Source:
Source, United States Department of State, Office of the Historian and Bureau of European and Eurasian Affairs.
Social Links:
http://www.facebook.com/USEmbReykjavik http://www.twitter.com/usembreykjavik
Related Links: