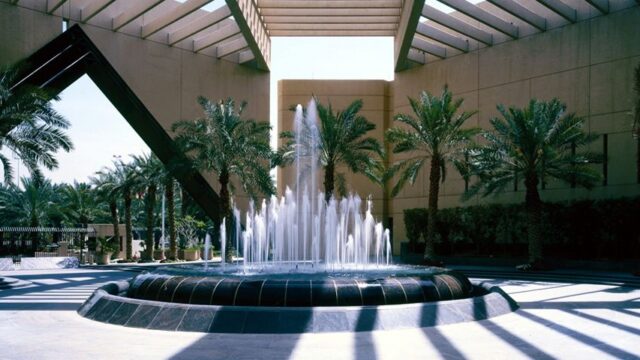 U.S. Embassy Riyadh, Saudi Arabia
For over sixty years, the United States and the Kingdom of Saudi Arabia have enjoyed a strong relationship based upon mutual respect and common interests. Diplomatic relations were established in 1933. Saudi Arabia's unique role in the Arab and Islamic worlds, its possession of the world's largest reserves of oil, and its strategic location all play a role in the long-standing bilateral relationship between the Kingdom and the United States. The United States and Saudi Arabia have a common interest in preserving the stability, security, and prosperity of the Gulf region and consult closely on a wide range of regional and global issues. The region is going through a period of great transformation and Saudi Arabia plays an important leadership role in working toward a peaceful and prosperous future for the region. When requested, the United States enhances the capabilities of ministries in the Kingdom through technical support, particularly in areas of education, trade, and good governance. Saudi Arabia is also a strong partner in regional security and counterterrorism efforts, providing military, diplomatic, and financial cooperation. It works closely with U.S. law enforcement to safeguard both countries' national security interests. The United States and Saudi Arabia enjoy a strong economic relationship, as the United States is Saudi Arabia's largest trading partner, and Saudi Arabia is one of the United States' largest trading partners in the Middle East. Saudi Arabia is the second leading source of imported oil for the United States, providing more than one million barrels per day of oil to the U.S. market. Today the U.S. embassy is located in Riyadh. There are also U.S. consulates in Dhahran and Jeddah. For more information on our relationship with Saudi Arabia, please click here.
Map Link:
Source:
United States Department of State, Office of the Historian and Bureau of Near Eastern Affairs.
Social Links:
http://www.twitter.com/USAinKSA http://www.facebook.com/USAinKSA
Related Links: