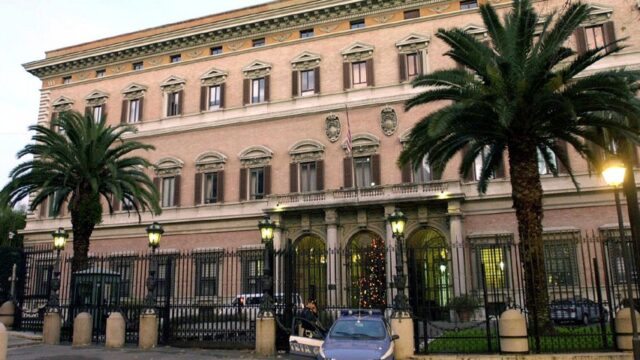 U.S. Embassy Rome, Italy
Prior to Italian unification in 1861, the United States had diplomatic relations with the main entities of the Italian peninsula: the Kingdom of Sardinia, the Kingdom of the Two Sicilies, and the Papal States. The American Legation in Italy was elevated to an embassy in 1893, and apart from a three-year interruption during World War II the United States and Italy have maintained diplomatic relations ever since. Italy is a steadfast and active transatlantic partner, and the United States and Italy have sought to foster democratic ideals and international cooperation, especially in areas of strife and civil conflict. The U.S.-Italy partnership is one of our strongest, as Italy is a leader in peacekeeping and military operations around the world. Italy has also worked closely with the United States and others in combating drug trafficking, human trafficking, and terrorism. Over the past two years, Italy has been an early and active partner in the fights against ISIL and Ebola. The U.S. Embassy in Rome was once the home of Queen Margherita, the first queen of Italy. After her death in 1926, the Palazzo Margherita was partitioned into offices for the National Fascist Confederation of Farmers and then purchased by the U.S. government in 1946. Since then, the 300-year-old building has been carefully preserved and upgraded to meet modern security requirements. The U.S. Ambassador to Italy is also accredited to San Marino. There are also U.S. Consulate Generals in Florence, Milan, and Naples. For more information on our relationship with Italy, please click here.
Map Link:
Source:
United States Department of State, Office of the Historian and Bureau of European and Eurasian Affairs.
Social Links:
http://www.twitter.com/AmbasciataUSA http://www.facebook.com/AmbasciataUSA
Related Links: