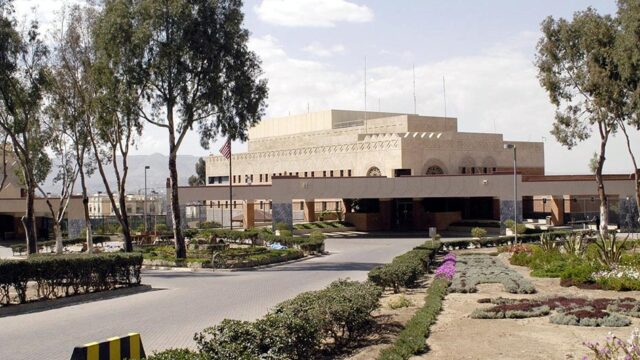 U.S. Embassy Sana'a, Yeman
The area that comprises Yemen today was divided, since the nineteenth century, in two along a north-south divide. The two countries were formally unified as the Republic of Yemen in 1990 though civil war broke out in 1994. The United States established diplomatic relations with North Yemen in 1946 and South Yemen in 1967. Yemen's peaceful political transition after the 2011 "Arab Spring" demonstrations was interrupted in the fall of 2014 when Houthi militant groups allied with forces loyal to ex-President Ali Abdallah Saleh entered the capital, and subsequently seized control of government institutions – sending the Hadi government into exile in Saudi Arabia. A Saudi-led coalition of ten member states initiated an air-campaign in 2015. The country remains deeply divided, with pockets of violent conflict ongoing. The ongoing conflict exacerbated already high levels of need in Yemen, pushing the country into a humanitarian crisis. The UN estimates that 18.8 million people, or 69% of the entire population, are in need of humanitarian assistance, more than any other single country today. Through USAID and the Bureau for Population Refugees and Migration, the US Government supports interventions including emergency food assistance, medical treatment and vaccination support for children, emergency obstetric services for women, blankets and household goods for displaced families, and hygiene kits and water treatment supplies to reduce the spread of disease. USAID also supports a small number of health, education, and livelihoods early recovery assistance activities seek to help households and social service delivery systems cope with the effects of the conflict and prepare for the post-conflict recovery. However, the insecure operating environment continues to limit development programming. The U.S. embassy in Sanaa suspended operations in February 2015. The U.S. Ambassador to Yemen leads the Yemen Affairs Unit located in Jeddah, Saudi Arabia, through which we maintain our diplomatic engagement with the Yemeni government. For more information on our relationship with Yemen, please click here.
Map Link:
Source:
United States Department of State, Office of the Historian and Bureau of Near Eastern Affairs.
Social Links:
http://www.twitter.com/USEmbassyYemen http://www.facebook.com/yemen.usembassy
Related Links: