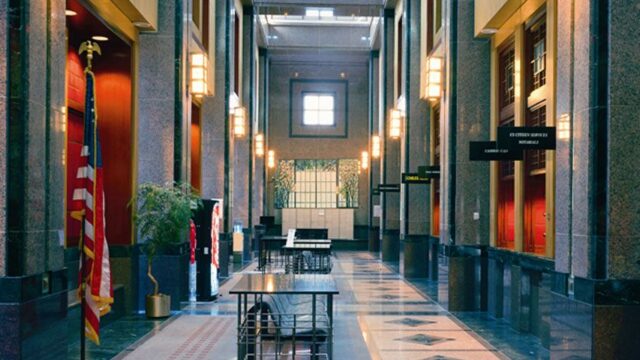 U.S. Embassy Santiago, Chile
The United States recognized the Republic of Chile in 1823 as the former Spanish colony struggled for its independence. An American Legation arrived the next year to establish diplomatic relations. The legation was elevated to embassy status in 1914.
Chile, one of the United States' strongest partners in Latin America, has maintained a robust democracy for the last 26 years including respect for the rule of law and a focus on economic stability, education, environmental protection, human rights, and development., Although Chile was ruled by a military government that came to power in a coup from 1973 to 1990, the U.S. Government applauded and supported the rebirth of democratic practices in Chile in the late 1980s and early 1990s.
Providing U.S. citizen services, helping maintain a vibrant, inclusive democracy and a healthy and sustainable economy that benefits all Chileans are among the most important U.S. interests in Chile. The two countries consult frequently on issues of mutual concern, including in the areas of international commerce, multilateral diplomacy, security, academic exchanges, military cooperation, and science. The U.S. and Chile have worked together on development projects in several other countries. These projects have focused on issues such as citizen security, social inclusion, improving agricultural standards, and export promotion.
U.S.-Chile collaboration on environmental protection and scientific research is extensive and includes sustainable development, energy efficiency and conservation, wildlife management of terrestrial and marine protected areas, environmental law enforcement, glacier monitoring, and agricultural best practices. Many U.S. Government agencies are actively engaged in Chile and there is frequent high-level interaction between the U.S. Government and the Government of Chile.
There has also been cooperation between Chile and governments at the U.S. state level to foster and improve collaborations and the exchanging of experiences. The U.S. embassy is in Santiago. For more information on our relationship with Chile, please click here.
Map Link:
Source:
Source, United States Department of State, Office of the Historian and Bureau of Western Hemisphere Affairs.
Social Links:
http://www.facebook.com/usdos.chile
Related Links: