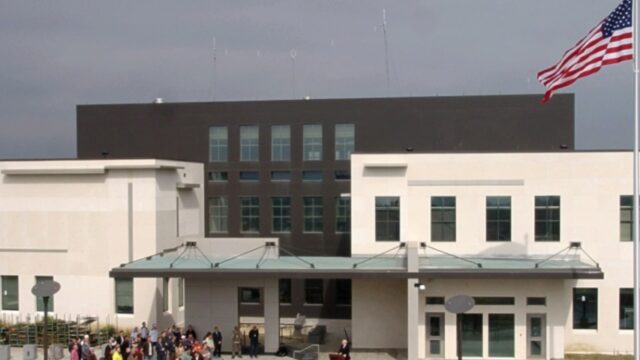 U.S. Embassy Skopje, North Macedonia
North Macedonia achieved independence in 1991 with the breakup of Yugoslavia. Recognition was delayed because of Greece's objection to North Macedonia's use of "Macedonia," and the country was initially recognized as the "Former Yugoslav Republic of Macedonia" (FYRM) The United States recognized FYRM in 1994 under the provisional designation and began referring to North Macedonia by its constitutional name, Republic of Macedonia, in 2004. The United States strongly supports North Macedonia's aspirations for full integration into Euro-Atlantic institutions and is committed to helping North Macedonia strengthen rule of law; improve education; promote media freedom; and build greater democratic foundations in a full, inclusive multi-ethnic society. The United States and its European allies acted swiftly to mediate an end to the 2001 civil conflict in North Macedonia, which grew from ethnic tensions, and closely supported the government and major parties' successful efforts to forge a peaceful, political solution to the crisis through the Ohrid Framework Agreement. In partnership with the European Union and other international organizations active in North Macedonia, the United States continues to facilitate the Macedonian Government's implementation of the Framework Agreement and fostering long-term peace and stability in the country. U.S. Government assistance to North Macedonia focuses on facilitating North Macedonia's continued development on the path toward full integration into the Euro-Atlantic community and assisting the North Macedonian Government's efforts to sustain economic and democratic reforms to build stability and prosperity. Today, the U.S. embassy is in Skopje. For more information on our relationship with North Macedonia, please click here.
Map Link:
Source:
United States Department of State, Office of the Historian and Bureau of European and Eurasian Affairs.
Social Links:
http://www.facebook.com/pages/US-Embassy-Macedonia/119869762156
Related Links: