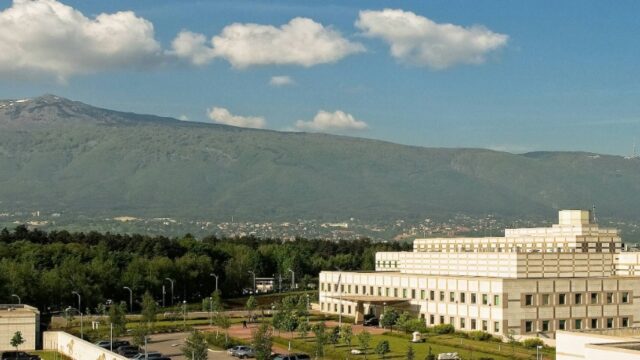 U.S. Embassy Sofia, Bulgaria
Long under Ottoman Turkish rule, Bulgaria became independent in 1908. The United States established a Consular Agency in Sofia in 1912. The first American Consular Agent in Bulgaria was actually a Bulgarian national, Asen Kermekchiev (later Ace Kermek), a businessman, physician, and journalist. He served the United States Government even while working as a field doctor for Bulgaria in the First Balkan War, and was praised for protecting American lives and property while at the front. He also founded the first American Chamber of Commerce in Sofia. Bulgaria was allied with Germany in World War II, and became a satellite of the Soviet Union at the war's end. As Bulgaria emerged from communism in the 1990s, the United States moved to encourage development of multi-party democracy and a market economy. Bulgaria is a reliable ally in an area of strategic importance to the United States. The U.S.-Bulgarian Defense Cooperation Agreement gives the United States military access to and shared use of several Bulgarian military facilities. The access facilitates joint training between the U.S. military and the Bulgarian and Romanian militaries. Bulgaria has participated in North Atlantic Treaty Organization (NATO), European Union (EU), and coalition operations, including in Libya, Iraq, Afghanistan, Kosovo, and Bosnia. The United States works closely with Bulgaria in strengthening the rule of law and have strong cooperation in law enforcement. U.S. Government investment in modernization and NATO interoperability for Bulgaria's military helps create stronger, more effective Bulgarian military units that can deploy alongside U.S. forces when needed. Today, the U.S. embassy is in Sofia. For more information on our relationship with Bulgaria, please click here.
Map Link:
Source:
United States Department of State Office of the Historian and Bureau of European and Eurasian Affairs.
Social Links:
http://www.facebook.com/pages/US-Embassy-Sofia/108194222569430
Related Links: