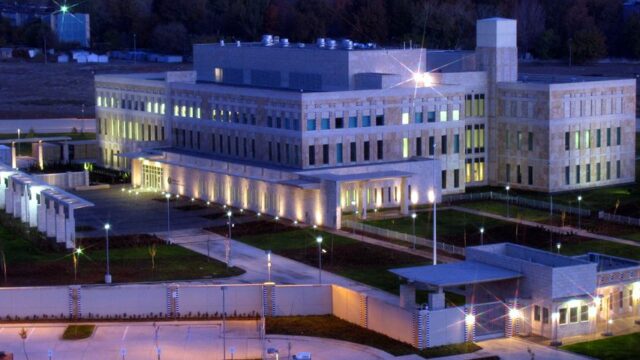 U.S. Embassy Tashkent, Uzbekistan
The United States established diplomatic relations with Uzbekistan in 1991 following the dissolution of the Soviet Union. The United States and Uzbekistan have developed a broad-based relationship, cooperating in such areas as border and regional security programs, economic relations, political and civil society issues, and English language training. Uzbekistan is important to U.S. interests in ensuring stability, prosperity, and security in the broader Central Asian region, and the U.S. has provided security assistance to the country to further these goals. Regional threats include illegal narcotics, trafficking in persons, terrorism, and extremism. Uzbekistan is a key partner supporting international efforts in Afghanistan, primarily through provision of electricity, development of rail infrastructure connecting Afghanistan and Uzbekistan, and support to the Northern Distribution Network logistics system serving North Atlantic Treaty Organization troops in Afghanistan. U.S. assistance goals are to improve livelihoods of citizens through support for the agricultural sector, address the threats of infectious disease and transnational crime, increase citizen input into government decision-making, and aid the government's efforts to ensure respect for human rights and fundamental freedoms. Uzbekistan and the United States belong to a number of the same international organizations, including the United Nations, Organization for Security and Cooperation in Europe, International Monetary Fund, and the World Bank. Uzbekistan is a member of the North Atlantic Treaty Organization's Partnership for Peace and an observer to the World Trade Organization. Today the U.S. embassy is in Tashkent. For more information on our relationship with Uzbekistan, please click here.
Map Link:
Source:
United States Department of State, Office of the Historian and Bureau of South and Central Asian Affair.
Social Links:
http://www.twitter.com/usembtashkent http://www.facebook.com/usdos.uzbekistan
Related Links: