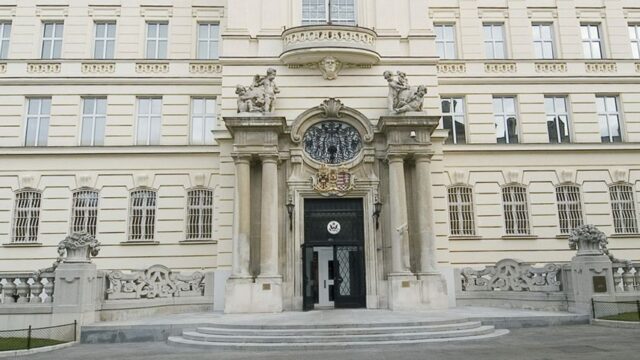 U.S. Embassy Vienna, Austria
Although Congress commissioned a representative to Vienna as early as 1777, the Austrian authorities only recognized the young United States in 1797. Full diplomatic relations with the Austrian Empire was established in 1838 with the exchange of ministers and the establishment of the U.S. Legation in Vienna. The legation was elevated to an embassy in 1902. With the United States' entry into World War I in 1917, however, the embassy was closed. The United States recognized the Republic of Austria in 1921 following the collapse of the Austro-Hungarian Empire, and opened a legation in Vienna only to close it in 1938 when Nazi Germany annexed the country. The legation reopened after the war in 1946 and was elevated to embassy status in 1951. The embassy building was originally an academy built in 1904 to train Austrian diplomats and business leaders. During World War II the Nazi military used the structure to teach military cadets. At the end of the war the U.S. military occupied the building and the U.S. Government purchased it in 1947. The United States and Austria share many common values and common perspectives, including a commitment to reducing the threats posed by climate change and nuclear proliferation, a support for human rights and the rule of law, and a shared vision of peace and freedom for all. The two countries are bound together through many people-to-people exchanges in business, the arts, education, and tourism. Austria and the United States are also partners in promoting global security and prosperity. Austria and the United States belong to a number of the same international organizations, including the Euro-Atlantic Partnership Council, International Monetary Fund, World Bank, and World Trade Organization. Today, the U.S. embassy is located in Vienna. Also located in Vienna, is the U.S. Mission to the OSCE and the U.S. Mission to International Organizations in Vienna. For more information on our relationship with Austria, please click here.
Map Link:
Source:
United States Department of State, Office of the Historian and Bureau of European and Eurasian Affairs.
Social Links:
http://www.facebook.com/USEmbVienna
Related Links: