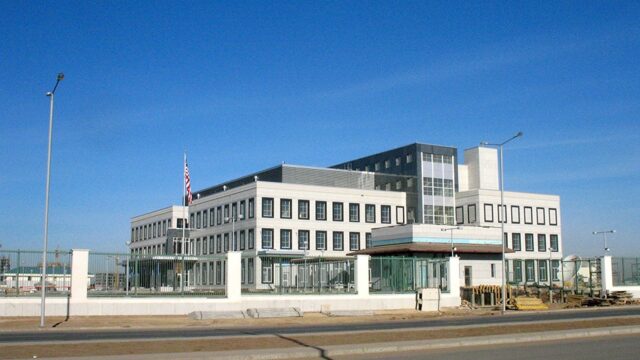 U.S. Mission to Astana, Kazakhstan
Following the dissolution of the Soviet Union, the United States was the first country to recognize Kazakhstan's independence in 1991. The United States opened its Embassy in Almaty in January 1992 and then relocated to Astana in 2006. In the years since Kazakhstan's independence, the two countries have developed a strong and wide-ranging bilateral relationship. U.S.-Kazakhstani cooperation in security and nuclear non-proliferation is a cornerstone of the relationship. Kazakhstan showed leadership when it renounced its nuclear weapons in 1993 and closed the Semipalatinsk Test Site. The United States assisted Kazakhstan in the removal of nuclear warheads, weapons-grade materials, and their supporting infrastructure. U.S. Government assistance to Kazakhstan focuses on combating transnational threats (trafficking in persons, narcotics, terrorists, and weapons of mass destruction materiel), improving the functioning of the judiciary, promoting an increased public role for civil society and mass media, maintaining Kazakhstan's open investment and trade environment, helping the government provide effective social services, and supporting Kazakhstan's efforts to meet its goals on climate change. The United States and the European Union worked together with the Ministry of Environmental Protection to establish an independent, nonprofit, and nonpolitical Regional Environmental Center in Kazakhstan to strengthen civil society and support sustainable development by promoting public awareness and participation in environmental decision-making among the countries of Central Asia. There is also a U.S. Consulate General in Almaty. For more information on our relationship with Kazakhstan, please click here.
Map Link:
Source:
United States Department of State, Office of the Historian and Bureau of South and Central Asian Affairs.
Social Links:
http://www.twitter.com/usembassyastana http://www.facebook.com/usembassy.astana
Related Links: