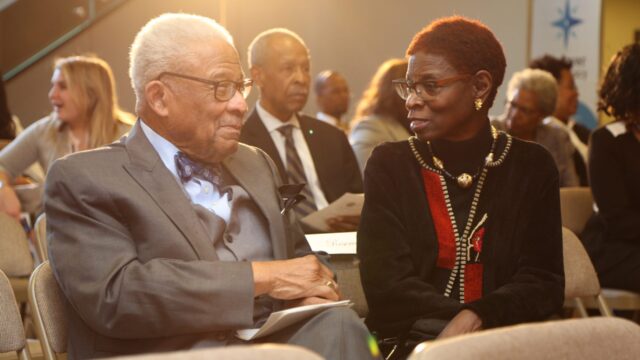 African American Trailblazers in Diplomacy
On February 28, the National Museum of American Diplomacy hosted a panel discussion about five trailblazing African American diplomats: Ebenezer Bassett, Ralph Bunche, Edward Dudley, Patricia Roberts Harris, and Mabel Murphy Smythe. Hosted in conjunction with the Thursday Luncheon Group, the Carl T. Rowen Chapter of Blacks in Government, Appalachian State University, and Mr. James T. L. Dandridge II of the Diplomacy Center Foundation; the panel delved beyond the "firsts" these diplomats represented and explored their lasting contributions to the Department of State and the practice of diplomacy. Dr. Michael Krenn, a professor of history at Appalachian State University, moderated the panel.
National Museum of American Diplomacy Director Mary Kane opened the event, thanking the participants and highlighting the importance of sharing stories from a diverse range of U.S. diplomats in order to convey a more inclusive and nuanced story of American diplomacy. State Department Bureau of Public Affairs Assistant Secretary Michelle Guida drew attention to the many modern-day trailblazers pioneers sitting in the room, including panel presenter Ambassador Ruth A. Davis, who served as the first African American Director of the Foreign Service Institute, the first female African American Director General of the Foreign Service, and the first and only African American female to be named Career Ambassador.
Foreign Service Officer Christopher Teal articulated his personal mission to share the story of Ebenezer Bassett, America's first presidentially appointed African American diplomat. After being posted to the Dominican Republic, Teal was surprised to discover that very little was known about Bassett. Teal also noted that April 2019 would mark the 150th anniversary of Bassett's appointment to Haiti. Teal has written a book about Ebenezer Bassett, Hero of Hispañola, and is also directing a documentary film on Bassett called A Diplomat of Consequence. Teal shared the story of Bassett, discussing his leadership, courage, and moral responsibility demonstrated in managing a refugee crisis in Haiti, adding that these attributes can provide insight into how crises are managed today.
James T.L. Dandridge II, a Diplomacy Center Foundation board member, presented on Ralph Bunche's illustrious diplomatic career, identifying himself as a "Bunche junkie." Dandridge reminded the audience of Bunche's work with Eleanor Roosevelt in establishing the United Nations' Universal Declaration of Human Rights and of his work negotiating an end to the 1948-1949 Arab-Israeli War. For his efforts as chief mediator, Bunche became the first African American awarded the Nobel Peace Prize in 1950. Dandridge, having personally know Bunche, spoke of Bunch's youth and his grandmother who provided color and texture to Bunch's character, connecting it to what made him so deft at pushing for peace in the Middle East. While active internationally, Dandridge noted that Bunche was also very active and respected within the Civil Rights Movement in the United States.
Professor Michael Krenn shared the story of Ambassador Edward Dudley, the first African American Ambassador, appointed in 1949. Dudley served in Liberia from 1949-1953. Krenn talked about what Dudley identified as the "Negro Circuit" for African American diplomats, where African Americans were only sent to serve in Liberia, the Azores, Madagascar, Haiti, and/or the Canary Islands. While at the State Department, Dudley highlighted this trend and worked to successfully dismantle the circuit, creating expanded opportunities for African American diplomats. Dudley's time at the State Department was short-lived. After serving as Ambassador, he went back to local New York politics and worked with the NAACP.
Ambassador Ruth Davis covered the careers of Patricia Roberts Harris and Mabel Murphy Smythe, two trailblazing African American women diplomats. Davis noted how difficult it was to find information about their careers. Benefiting from Ambassador Dudley's dismantling of the "Negro Circuit," Harris was appointed Ambassador to Luxembourg by President Johnson from 1965-1969. During this time, Harris noted in a speech her thoughts about the importance for Americans to be involved in foreign policy. She talked about America being a unique people and nation, more tied to all nations than any other in the world. This is why, she indicated, Americans are more concerned about what happens in the world than any other nation. Like Dudley, Harris did not stay at the State Department long, leaving and going back to local Washington, D.C. politics and serving as Dean of the Howard University Law School. Smythe, on the other hand, as a Career Foreign Service Officer worked her way up to the Senior Foreign Service, serving as Ambassador to Cameroon, Equatorial Guinea, and then as Assistant Secretary to the African Affairs Bureau. Davis noted Smythe's interest in exchange programs. Smythe found exchange programs and building people-to-people relationships as one of the most important aspect of diplomacy, which pave the way for policy making to happen.
Upon conclusion of the panel, the audience enjoyed a reception to celebrate the work of all trailblazers past and present.