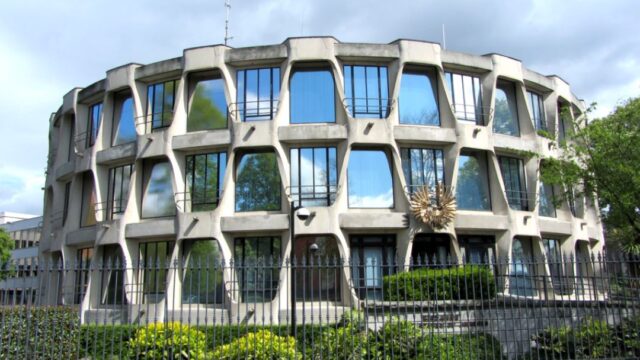 America's Diplomatic Architecture Abroad: A Brief History
When America's first diplomat, Benjamin Franklin, was sent to Paris in 1776 to seek French support in the nation's fight for independence, he had to fend for himself; including finding a place to live and work.
For over a century afterward, his experience was shared by nearly all U.S. diplomatic envoys, but over the last two centuries, the Department of State has changed its practice and acquired a large portfolio of chanceries, residences, and other properties for diplomats to live and work in.
These buildings are the stages on which our diplomats advance American ideals of democracy and free enterprise around the world, and among them, 268 are considered culturally, historically, or architecturally significant and are cared for by the Office of Cultural Heritage.
In celebration of Preservation Month, the Director of the Overseas Buildings Operation's Office of Cultural Heritage, Tobin Tracey, AIA, will share a history of the Department of State's diplomatic heritage buildings, highlighting how they were acquired, interesting historical moments, and how we are caring for them today.
Mr. Tracey will also orient attendees to the Office of Cultural Heritage's own history, sharing insights into an office of preservation conservation professionals across a variety of disciplines who have been described as having "the coolest jobs that no one has ever heard of."
If you would like to attend this event, please RSVP by 5/12/23
NMAD is located at 330 21st St NW, Washington, DC 20006, in the Harry S Truman Building. Visitors must enter at the 21st Street entrance to the U.S. Department of State (the glass building on 21st Street between D Street and C Street, NW). On the day of the program, please arrive 15 minutes before the 4:30 pm program begins to allow time for security. A government-issued photo ID is required for entry.
If you require a reasonable accommodation in accessing the April 19, 2023, program including, but not limited to, live captioning or ASL interpretation, please contact Emma Guyette in advance of the event at GuyetteE@state.gov.