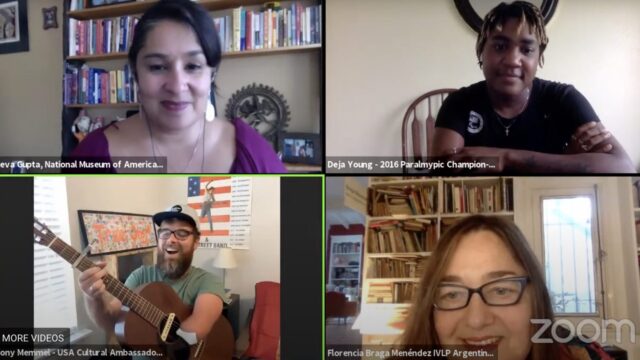 Diplomacy After Hours: Access for All
On July 8, 2020, NMAD hosted a virtual Diplomacy After Hours program in honor of the 30th anniversary of the passage of the Americans with Disabilities Act.
Held in partnership with the Bureau of Education and Cultural Affairs, the conversation included U.S. Sports Envoy Deja Young, a two-time gold medalist from the Rio 2016 Paralympic Games; U.S. Cultural Envoy Tony Memmel; and International Visitors Leadership Program Alumn Flor Braga Menéndez from Buenos Aires, Argentina. The program began with Tony playing his guitar and engaging the audience in a song before getting to the tougher conversation about living in the world with disabilities, including advances made and challenges that remain.
Watch Diplomacy After Hours: Access for All: Diplomacy and Disability Rights