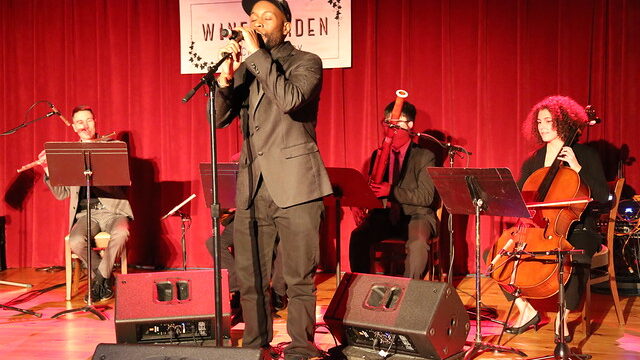 Diplomacy After Hours: Hip Hop & Conflict Transformation with Koshnens the MC
On January 8, 2020, NMAD hosted its monthly "Diplomacy After Hours" event at City Winery with Next Level alumnus Konshens the MC and his musical ensemble, Classically Dope. The Bureau of Education and Cultural Affairs, Meridian International Center, the University of North Carolina, Chapel Hill, and Next Level co-sponsored this event highlighting a State Department sponsored exchange program for hip-hop artists who travel overseas to work on conflict transformation. In 2017, Konshens the MC traveled with this program to Morocco.
In addition to NMAD Director Mary Kane, Lindsay Amini, Director of Cultural Programs at Meridian International Center and Junious Brickhouse, Director of Next Level provided opening remarks about the program and how they work with the State Department and embassies to administer the program. The audience experienced hip-hop to classical music, learned more about the exchange program, and engaged in a hip-hop workshop. In the end, four brave and talented members of the audience volunteered to share their pieces on stage.