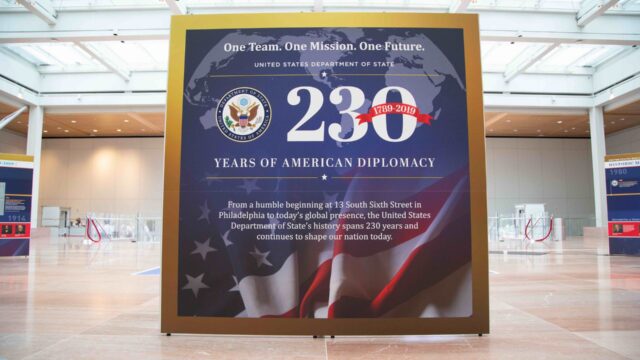 From 1789 to Today: 230 Years of State Department History
In celebration of the 230th anniversary of the State Department, the National Museum of American Diplomacy unveiled an exhibit showcasing the history of the Department, from its beginnings as the first cabinet agency, established on July 27, 1789, to now. This milestone presents a unique opportunity to highlight the Department's storied history and heritage and the important role of U.S. diplomacy – past, present, and future.
The exhibit highlights significant milestones in State Department history and the Secretaries of State who have headed our nation's first cabinet agency. From its humble beginnings at 13 South Sixth Street in Philadelphia in 1789 to its posts worldwide today, the State Department has led our nation's foreign policy for 230 years and continues its mission of promoting the interests and values of the American people around the world.
This exhibit was part of a daylong celebration hosted by Secretary of State Michael R. Pompeo. Under the theme of "One Team, One Mission, One Future," the commemoration featured a live discussion between Dr. Henry Kissinger and his official biographer, Dr. Niall Ferguson; a film featuring comments by Secretary George P. Shultz and Secretary Madeleine Albright; a panel discussion with historians; and more.
Secretary Pompeo spoke about the Department's unique role in advancing American interests, saying:
There is no other federal agency – none, and I served in the Department of Defense and I was a member of Congress. There is no other federal agency that can do this around the world like the United States Department of State. None. Ours is a very special mission, and today's anniversary is an opportunity to rededicate ourselves to it.
The Department also unveiled a video featuring the new Professional Ethos statement, showcasing many of the Department's staff and their work, around the world.