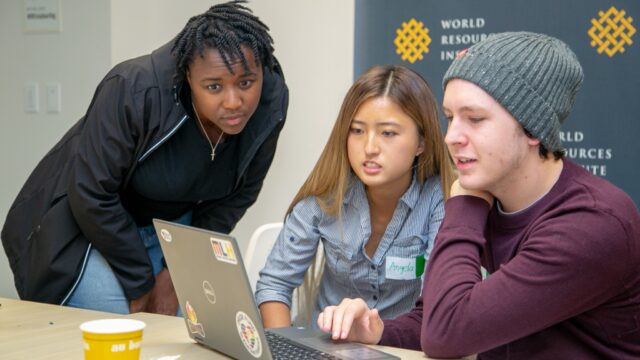 Impact Hack 2020
On July 29, 2020, NMAD hosted a virtual interactive feedback session for participants in this year's NMAD hackathon, ImpactHack2020. ImpactHack2020 was a five-week virtual hackathon to develop ideas for two future museum exhibits:
Interactive World Map: Using publicly available data, participants created an interactive world map that explores where, when, and why American diplomacy happens and the topics addressed by multilateral efforts
Creating a Diverse Diplomatic Corps: Using State Department career information, participants created an interactive site where users match their skills and interests to careers in diplomacy.
NMAD was joined by special guests Stephen Rose from Microsoft, Faisal Khan from the Department of State Specialist Recruitment, and Patrick Sheard from Diplomatic Security joined to discuss opportunities in tech and diplomacy.
Mary Kane, NMAD's director, kicked off the event with a special introduction and then passed it to Khan and Sheard, who discussed career opportunities with the State Department for specialized skills. Rose, representing Microsoft, brought a unique private sector perspective, exploring the future of software and burgeoning sectors of tech, as well as the creativity crucial to thrive in the industry. Reva Gupta, a Foreign Service Officer and NMAD's Public Affairs Officer discussed her experience before the event broke for a participatory session. In these sessions, participants could visit five separate virtual "rooms," including two rooms for feedback and asking questions about their ImpactHack2020 projects, a room for advice on how to pursue a career in diplomacy, a room for connecting with volunteer mentors, and a room for Q&A with Gupta on the Foreign Service.
Over 70 hackathon participants joined the event.
Later on September 15, 2020, NMAD held an online awards ceremony, broadcast over its website and social media accounts, to recognize the winners of ImpactHack2020.
The winners were:
Overall Grand Prize: John Ferguson (U.S. Army) & Andrew Ferguson (Harvard University)
Best Creating a Diverse Diplomatic Corps Interactive: Michelle D'Souza (University of California, Berkeley)
Best World Map Interactive: Ranjan Biswas (Georgetown University)
Honorable Mention: Sherry Fan (University of California, Berkeley)
NMAD is very grateful to the nearly 400 participants who competed in this virtual hackathon from July 15 to August 24, 2020. Participants used their tech skills and creativity to enhance the general public's understanding of diplomacy and its related skills. These projects will serve as prototypes for future interactive exhibits in the museum.