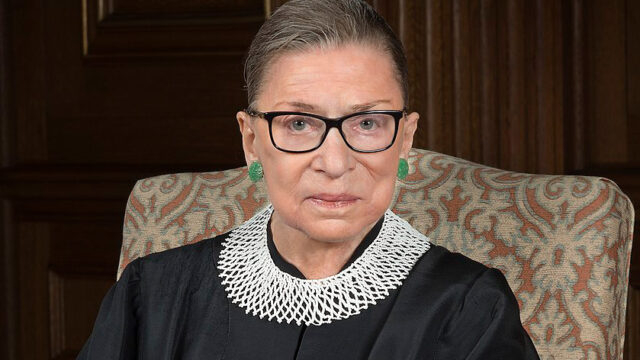 The Judge as Diplomat: Honoring U.S. Supreme Court Justice Ruth Bader Ginsburg
The National Museum of American Diplomacy at the United States Department of State was honored to host a discussion of the legacy of U.S. Supreme Court Justice Ruth Bader Ginsburg and her contributions to diplomacy.
The program, moderated by Justice Ginsburg's official biographer Mary Hartnett, included her children, Jane and James Ginsburg, and her former law clerks Amanda Tyler and Lisa Beattie Frelinghuysen. Special remarks were given by U.S. Supreme Court Associate Justice Stephen G. Breyer.
Watch our Diplomacy After Hours program The Judge as Diplomat: Honoring U.S. Supreme Court Justice Ruth Bader Ginsburg
Program Bios
Bio of U.S. Supreme Court Associate Justice Ruth Bader Ginsburg
Ruth Bader Ginsburg, Associate Justice, was born in Brooklyn, New York, March 15, 1933. She married Martin D. Ginsburg in 1954, and has a daughter, Jane, and a son, James. She received her B.A. from Cornell University, attended Harvard Law School, and received her LL.B. from Columbia Law School. She served as a law clerk to the Honorable Edmund L. Palmieri, Judge of the United States District Court for the Southern District of New York, from 1959–1961. From 1961–1963, she was a research associate and then associate director of the Columbia Law School Project on International Procedure. She was a Professor of Law at Rutgers University School of Law from 1963–1972, and Columbia Law School from 1972–1980, and a fellow at the Center for Advanced Study in the Behavioral Sciences in Stanford, California from 1977–1978. In 1971, she co-founded the Women's Rights Project of the American Civil Liberties Union, and served as the ACLU's General Counsel from 1973–1980, and on the National Board of Directors from 1974–1980. She served on the Board and Executive Committee of the American Bar Foundation from 1979-1989, on the Board of Editors of the American Bar Association Journal from 1972-1978, and on the Council of the American Law Institute from 1978-1993. She was appointed a Judge of the United States Court of Appeals for the District of Columbia Circuit in 1980. President Clinton nominated her as an Associate Justice of the Supreme Court, and she took her seat August 10, 1993. Justice Ginsburg died on September 18, 2020.
Bio of U.S. Supreme Court Associate Justice Stephen G. Breyer
Stephen G. Breyer, Associate Justice, was born in San Francisco, California, August 15, 1938. He married Joanna Hare in 1967, and has three children – Chloe, Nell, and Michael. He received an A.B. from Stanford University, a B.A. from Magdalen College, Oxford, and an LL.B. from Harvard Law School. He served as a law clerk to Justice Arthur Goldberg of the Supreme Court of the United States during the 1964 Term, as a Special Assistant to the Assistant U.S. Attorney General for Antitrust, 1965–1967, as an Assistant Special Prosecutor of the Watergate Special Prosecution Force, 1973, as Special Counsel of the U.S. Senate Judiciary Committee, 1974–1975, and as Chief Counsel of the committee, 1979–1980. He was an Assistant Professor, Professor of Law, and Lecturer at Harvard Law School, 1967–1994, a Professor at the Harvard University Kennedy School of Government, 1977–1980, and a Visiting Professor at the College of Law, Sydney, Australia and at the University of Rome. From 1980–1990, he served as a Judge of the United States Court of Appeals for the First Circuit, and as its Chief Judge, 1990–1994. He also served as a member of the Judicial Conference of the United States, 1990–1994, and of the United States Sentencing Commission, 1985–1989. President Clinton nominated him as an Associate Justice of the Supreme Court, and he took his seat August 3, 1994.
Bio of Mary Hartnett, official biographer
Mary Hartnett has been at Georgetown Law since 1998, first as Executive Director of the Women's Law and Public Policy Fellowship Program (WLPPFP), and now as an Adjunct Professor of Law and Advisory Board Member of WLPPFP. Professor Hartnett is currently writing, with co-author Wendy Williams, an authorized biography of U.S. Supreme Court Justice Ruth Bader Ginsburg, and co-authored, with Justice Ginsburg and Professor Williams, My Own Words (Simon & Schuster, 2016). Professor Hartnett has also served as a Public Policy Scholar at the Woodrow Wilson International Center in Washington, D.C., as a Visiting Professor at the Riga Graduate School of Law in Latvia, teaching International Women's Human Rights Law, as a member of the Edmund Muskie Fellowship legal selection committee, and as Vice-Chair of the American Bar Association's Committee on the Rights of Women.
Prior to her positions at Georgetown, Professor Hartnett was of counsel to the international law firm of Coudert Brothers, advising for nearly a decade on international transactions. Professor Hartnett has been actively involved in women's rights issues throughout her career as an international attorney, including representing low-income clients in federal court through her service on the Civil Pro Bono Panel for the U.S. District Court, D.C., drafting amicus briefs for the Women's Legal Defense Fund, and counseling victims of domestic violence. She has a special interest in international women's rights issues, having lived in Bahrain, Norway, Russia, Ireland, Latvia, Uzbekistan, and Georgia, and is the 2009 recipient of the American Bar Association's Rasmussen Award for the Advancement of Women in International Law, and the 2005 recipient of the Grinnell College Alumni Award.
Professor Hartnett attended New York University School of Law for her first year of law school as a Root-Tilden scholar, and graduated from Georgetown University Law Center magna cum laude, where she was a member of the American Criminal Law Review and the Sex Discrimination Clinic. She received her undergraduate degree from Grinnell College with honors, where she majored in women's studies and political science, interned and clerked for members of the Iowa House of Representatives and Senate, played varsity softball and captained the women's tennis team.
Bio of Jane Ginsburg, Justice Ginsburg's daughter
The faculty director of Columbia's Kernochan Center for Law, Media, and the Arts, Jane Ginsburg is a renowned authority on intellectual property law and a staunch defender of authors' rights. She teaches and writes about copyright law, international copyright law, legal methods, and trademark law; she is the author or co-author of casebooks on all four subjects including International Copyright: U.S. and EU Perspectives (with Edouard Treppoz) and Copyright: Cases and Materials (9th edition) (with Robert A. Gorman and R. Anthony Reese). Ginsburg was a co-reporter for the American Law Institute's Principles of the Law, Intellectual Property: Principles Governing Jurisdiction, Choice of Law, and Judgments in Transnational Disputes.
Fluent in French and Italian, Ginsburg has been a visiting professor at law schools and universities in France and Italy as well as in Australia, England, Israel, and New Zealand. She is a vice president of the Association Littéraire et Artistique Internationale, a Paris-based international organization created to promote and defend authors' rights, and president of its U.S. chapter. She is an elected member of the American Philosophical Society and the American Academy of Arts and Sciences, and a Corresponding Fellow of the British Academy.
Bio of James Ginsburg, Justice Ginsburg's son
Living in Chicago, Ginsburg noticed that he was not able to find recordings of the local artists he heard in concert because, at that time, American classical music recording activity was largely focused on the two coasts. Founded in 1989, Cedille Records became the only Chicago-based classical label—the first since Mercury Living Presence in the 1950s—and held that distinction for nearly two decades.
After listening to tapes of pianist Dmitry Paperno's on-air performances on Chicago's classical music station, WFMT, Ginsburg enlisted Paperno to record Cedille's first album. Dmitry Paperno Plays Russian Piano Music garnered favorable reviews and put Cedille on the map.
In 1994, Cedille became a not-for-profit under the umbrella of an operating foundation, now called Cedille Chicago, NFP. This change gave Cedille the ability to produce more recordings and pursue more ambitious projects. Cedille Records releases an average of eight recordings per year. Recording projects are artist-driven, generated directly from the artists' interests and aesthetic sensibilities. Driven by its desire to further artists' careers, Cedille continually seeks to add new artists to its roster. Cedille bears production, distribution, and promotion expenses associated with each recording, drawing from contributed support by individuals and organizations, plus album sales revenue.
Cedille has grown to be one of Chicago's greatest ambassadors of classical music, garnering 18 Grammy nominations and six Grammy Awards for its recordings. Cedille has also earned a stellar reputation as a top label for recording contemporary works: the label's catalog of 200 albums, featuring more than 180 distinct artists and ensembles, includes the world-premiere recordings of over 300 works.
In 2009, The Chicago Tribune named Ginsburg a "Chicagoan of the Year," writing, "Let's hear it for James Ginsburg. The Chicagoan is one of the last independent entrepreneurs in classical recording, a man who has stuck to his artistic vision and made a success of it at a time of market shrinkage and industry downsizing."
In 2010, Ginsburg won the Helen Coburn Meier and Tim Meier Charitable Foundation for the Arts Achievement Award. In making the award, the Foundation wrote, "We applaud Jim for seeing that Chicago has an abundance of stellar musicians. With his recording projects, Jim believes he can advance musicians' careers and serve the listening public in equal measure."
Additional recognition and awards include being named a Jewish Chicagoan of the Year by the Chicago Jewish News in 2011; in 2012, he received the Ruth D. and Ken M. Davee Excellence in the Arts Award from the Illinois Philharmonic Orchestra; in 2016, Musical America named him one of The Top 30 Performing Arts Professionals of the Year; and in 2017, he was the honoree at the annual galas of both Chicago Opera Theater and the Rembrandt Chamber Musicians. Most recently, he received a 2020 Distinguished Service to the Arts Award from Lawyers for the Creative Arts.
In 2019, Ginsburg was nominated for a "Producer of the Year, Classical" Grammy Award. In addition to this nomination, Cedille Records albums have won a number of Grammys, including the 2008, 2012, 2013, 2016 Awards for "Best Small Ensemble/Chamber Music Performance" for the contemporary music sextet Eighth Blackbird. In 2017, Third Coast Percussion also won for "Best Small Ensemble/Chamber Music Performance" for its Cedille album of music by composer Steve Reich.
Bio of Amanda Tyler, Justice Ginsburg's former law clerk
Amanda L. Tyler is the Shannon Cecil Turner Professor of Law at the University of California, Berkeley School of Law. Professor Tyler's research and teaching interests include the Supreme Court, federal courts, constitutional law, legal history, civil procedure, and statutory interpretation. She is the co-author, with the Honorable Ruth Bader Ginsburg, of Justice, Justice Thou Shalt Pursue: A Life's Work Fighting for a More Perfect Union, which the University of California Press will publish in early 2021. The book is an outgrowth of Justice Ginsburg's 2019 visit to Berkeley Law when she and Tyler sat down for a conversation about Justice Ginsburg's life. Tyler is also the author of Habeas Corpus in Wartime: From the Tower of London to Guantanamo Bay, published in 2017 by Oxford University Press and released in paperback in 2019. Tyler has contributed to many books and published with the Atlantic, the Lawfare Blog, other media outlets, and numerous law journals. Recent articles include Courts and the Executive in Wartime: A Comparative Study of the American and British Approaches to the Internment of Citizens During World War II and Their Lessons for Today, 107 California Law Review 789 (2019); Habeas Corpus in Wartime and Larger Lessons for Constitutional Law, Harvard Law Review Online (April 2019); and A "Second Magna Carta": The English Habeas Corpus Act and the Statutory Origins of the Habeas Privilege, 91 Notre Dame Law Review 1946 (2016). Since 2016, Professor Tyler also has served as a co-editor of Hart and Wechsler's The Federal Courts and the Federal System (Foundation Press) (with Richard H. Fallon, Jr., Jack L. Goldsmith, John F. Manning, and David L. Shapiro).
Prior to joining the Berkeley Law faculty in 2012, Professor Tyler served on the faculty of the George Washington University Law School and was a visiting professor at Harvard Law School, New York University School of Law, and the University of Virginia School of Law. In 2017, she was a Visiting Senior Fellow in the Law Department of the London School of Economics and the Order of the Coif Distinguished Visitor. Tyler is a past Chair of the Federal Courts Section of the American Association of Law Schools and is an elected member of the American Law Institute. In 2020, Professor Tyler received the law school's Rutter Award for Teaching Distinction.
Professor Tyler holds a degree in Public Policy, with honors and distinction, from Stanford University, and a J.D., magna cum laude, from Harvard Law School. At Stanford, she played on the Division I Women's Soccer Team. At Harvard, she served as Treasurer of the Harvard Law Review and won the George Leisure Award for Best Oralist in the James Barr Ames Moot Court Finals. Prior to entering academia, Professor Tyler served as a law clerk to the Honorable Guido Calabresi at the United States Court of Appeals for the Second Circuit and the Honorable Ruth Bader Ginsburg at the Supreme Court of the United States. She also practiced as an associate with the law firm of Sidley & Austin in Washington, D.C. Professor Tyler has run 18 marathons, including 11 Boston Marathons.
Bio of Lisa Beattie Frelinghuysen, Justice Ginsburg's former law clerk
Lisa Beattie Frelinghuysen is a Senior Banyan Affiliate with BanyanGlobal. She is an independent consultant who works with Banyan on individual projects where the client can benefit from her expertise.
She worked at David Yurman Enterprises, a family-owned, privately held company, for seven years as Chief of Strategy and Chief Legal Officer, overseeing the company's corporate, litigation, intellectual property, real estate, contracts, compliance, and employment practice, and cyber security plans. She also worked with the owners on the CEO search, Board of Directors development, ownership and governance structure, and succession plans. Lisa explains, "I enjoyed helping the family build the right structure for both their current business and future business needs, a structure that would allow the company to thrive for generations."
Previously, Lisa practiced law with Williams & Connolly, representing media clients, including Disney, NBC, and Newsweek. She was a law clerk to Justice Ruth Bader Ginsburg, and worked on the U.S. Supreme Court's critical gender equality case, involving Virginia Military Institute. Her time on the Supreme Court, assessing difficult cases, increased her appreciation and respect for both sides of an issue and the implications of the Court's decision. "Working with Justice Ginsburg taught me to be a critical thinker and express considered opinions thoughtfully." Lisa notes, "she's an inspiration – she's dedicated herself to justice and equality, and continues to have a profound impact well into her 80s." Before that time, Lisa worked as a law clerk to Chief Judge Harry Edwards of the U.S. Court of Appeals for the D.C. Circuit. She also served as President and Editor-in-Chief of the Stanford Law Review.
Lisa lives in NYC with her husband and four children and serves on various privately-held company boards and non-profit boards in the gender equality space. She speaks frequently on the subject of women's equality and reproductive justice. In college, Lisa played on the Stanford Women's Lacrosse Team, but now enjoys tennis and yoga and climbing mountains; she's summited Mt. Kilimanjaro, Mt. Kenya, and the Matterhorn.
Bio of Hilary Brandt, Deputy Director of the National Museum of American Diplomacy
Hilary Brandt is the Deputy Director for Management at the National Museum of American Diplomacy. She oversees the museum's budget, contracting, strategic planning, technology, and communications.
Bio of Michelle Bernier-Toth, Foreign Service Officer
Michelle Bernier-Toth joined the U.S. Department of State as a Foreign Service Officer in 1987, and has served as a consular officer in Damascus, Syria; Doha, Qatar; and Abu Dhabi, United Arab Emirates. She has also served domestically in the Bureau of Consular Affairs (CA), the Foreign Service Institute, and the Bureau of Near Eastern Affairs.​
Ms. Bernier-Toth has served as the Special Advisor for Children's Issues since December 2019. She previously served as Managing Director of CA's Overseas Citizens Services Directorate (2011-2019), Director of the Office of American Citizens Services and Crisis Management (2005-2011), the Director and later Deputy Director of the Office of Children's Issues (2002-2005), and as Special Assistant for Overseas Citizens Services (2001-2002). ​
Ms. Bernier-Toth has three adult children. She earned a Masters of Art in Arab Studies from Georgetown University in 1985, and a Bachelors of Art in Near Eastern Language and Literature from Yale University in 1982.