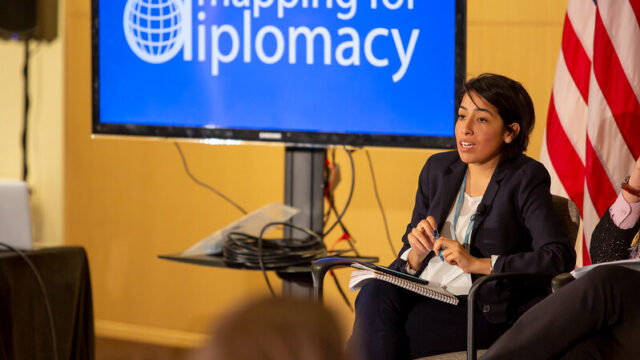 Mapping for Diplomacy
The National Museum of American Diplomacy partnered with MapGive to host a mapathon on April 5, 2019. The purpose of a mapathon is to create necessary digital map data for humanitarian and development causes, including combating HIV/AIDS, humanitarian assistance, and public diplomacy.
Mapathons are unique events that facilitate volunteer participation in a global mapping movement that helps solve some of our most pressing challenges. Participants learned about the impact of open mapping and how to use satellite imagery to create map data through the OpenStreetMap platform.
Participants created nearly 4,000 edits to OpenStreetMap of refugee settlements in Ethiopia and the affected areas in Mozambique, including over 3,000 buildings and nearly 80 kilometers of roads. The map data participants created on April 5th is already being put to work today for humanitarian response, such as by the United Nations Refugee Agency Site Planner.
The program included keynote remarks from Lee Schwartz, the Geographer of the United States as well as a conversation with a panel of experts: Melinda Laituri, Principal Investigator on Secondary Cities, Larry Sperling from PEPFAR, and Chad Blevins from USAID/YouthMappers. Erika Nunez from MapGive moderated. Participants were provided with a mapping tutorial and began mapping, aided by mentors, refreshments, and lightning talks from Tyler Radford of Humanitarian OpenStreetMap Team and Mikel Maron of MapBox.
Mapbox, the location data platform for mobile and web applications, sponsored the event. National Geographic contributed the prizes to randomly selected mappers.
MapGive is a United States Department of State initiative, managed by the Humanitarian Information Unit, that encourages volunteer participation in the global mapping community and facilitates the creation of open geographic data to support humanitarian and development efforts. MapGive emphasizes collaborative online mapping as a method to engage with local communities and organizations, with resonant themes including education, urban resilience, public health, and humanitarian response, among others.
To learn more about mapping, watch our "Why Map?" video: https://mapgive.state.gov/why-map/.
Watch an overview of the event below: