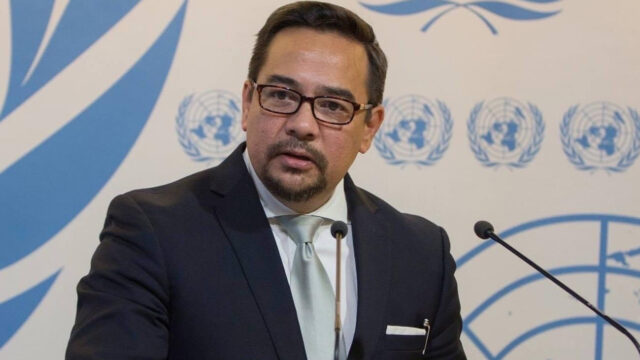 A Conversation with the First Native American Ambassador to the UN Human Rights Council, Keith Harper
In honor of Native American Heritage Month, we hosted a conversation with the first Native American to be named a U.S. ambassador to the UN Human Rights Council, Ambassador (ret.) Keith Harper.
In this discussion, Ambassador Harper shared how his Native American heritage contributed to his work representing the United States. He also shared his experience serving as Ambassador to the Human Rights Council and encouraged young people to consider a career in diplomacy.
Ambassador Harper, a citizen of the Cherokee Nation, served from 2014 to 2017 as U.S. Ambassador and Permanent Representative to the UN Human Rights Council in Geneva, Switzerland. He is a Partner at Jenner & Block and is Chair of the Native American Practice and Co-Chair of the Human Rights & Global Strategy Practice. He also teaches a course on human rights at Brown University's Watson Institute for International and Public Affairs as a Senior Fellow.
The conversation was moderated by Erin Barclay, Senior Official for the Bureau of Democracy, Human Rights, and Labor.
At the end of the program, visitors viewed moccasins Ambassador Harper received from his in-laws, who are members of the Caddo Tribe, at his swearing-in ceremony. During his service as Ambassador, he wore the moccasins to at least one official event that required traditional dress. Ambassador Harper has generously donated these moccasins to the collections of the National Museum of American Diplomacy.
At the conclusion of the event, guests were invited to view our preview exhibit, Diplomacy Is Our Mission.
This program was in partnership with the Native American Foreign Affairs Council.