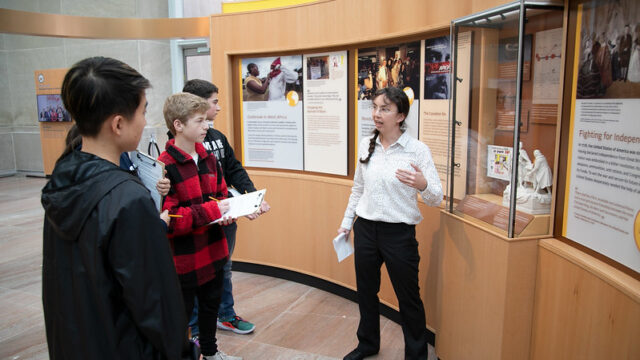 NMAD Brings Diplomacy to Life for Maryland High Schoolers
In February, NMAD was thrilled to host over 150 students of 2019 Teacher Institute alumna Samantha Fowler, an educator from Northwest High School in Germantown, Maryland.
The students spent their time at the museum immersed in the world of diplomacy and the work of U.S. diplomats. They were first introduced to the work of the Department of State by touring the people, objects, and stories in the Diplomacy Is Our Mission exhibit. This was complemented by a visit to the State Department's Diplomatic Reception Rooms where they had an opportunity to see where diplomacy is conducted. To further deepen their understanding of diplomacy, all of the students also met with T.J. Grubisha, a Foreign Service Officer on assignment to NMAD.
Samantha summed up the successful visit: "We had learned about diplomacy in class, and the discussion with T.J. allowed students to actually understand how diplomacy serves to shape foreign policy in real situations."